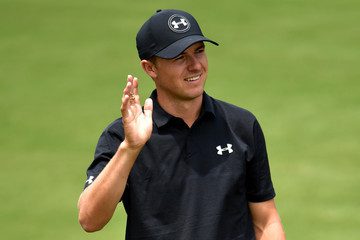 Twenty-four year old Jordan Spieth–with the boyish-looking face and one green jacket in his closet already–ran off five consecutive birdies on the back nine at Augusta National Golf Club this afternoon to shoot six-under par 66. That gave him a two-shot lead over long-hitting Tony Finau and sweet-smiling Matt Kuchar. But Mr. Spieth had to make it interesting on the last, 18th hole. He hooked his drive way left in the trees, yet finished the hole with a tremendous chip and a one-putt for a bogey five.
Four-time Masters winner Tiger Woods–after being absent from action with back pain for three years–rejoined these elite golfing gypsies as they weaved their way through the majestic pine trees and dogwoods while catching a glimpse of the colorful azaleas. Tiger shot a respectable one-over-par 73. And 47-year old Phil Mickelson, a three-time Masters winner, made himself proud with a two-under par 70 as he seeks to become the oldest Masters winner in history. (Jack Nicklaus still holds that record as a winner at age 46.)
The leaderboard was filled with the young and quite old. The latter category was represented by 55-year old Vijay Singh with a one-under par 71 and 58-year old Fred Couples at even-par 72.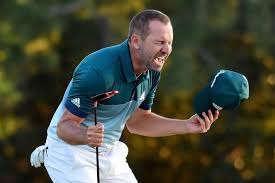 The day's biggest blow-up was registered by the defending champion Sergio Garcia. Last year, Sergio eagled the par-five 15th hole on Sunday. That propelled him into a sudden playoff which he won against Justin Rose. But today, the Spaniard was two over par when he approached the 15th. He hit a good drive in the fairway that left him with only a 206-yard, downhill, second shot. Sergio hit his mid-iron over the pond fronting the green. But the ball hit into the steep bank short of the green and rolled backwards into the pond. He then used his wedge to baptize four more balls in that water to finish the hole with a whopping 13. Yet on each of those four wedge shots, the ball landed on the green and then spun backwards, thus off the green and down the embankment. That tied the highest score on any hole in Masters history. Garcia said afterwards in English with his Spanish accent, "It's the first time in my career where I make a 13 without missing a shot. Simple as that."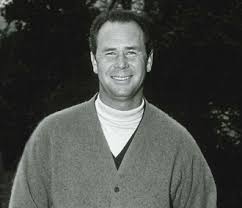 It reminds me of Champagne Tony Lema, who was a PGA Tour superstar for a few years until his untimely death in a private airplane crash. In my day, Lema was the witty darling of the press corps. One day he was hitting balls on the practice range. But I first have to explain something that many readers may know nothing about.
Back then, we didn't have the luxury of all those new golf balls being supplied to us on the range. PGA pros had to bring their own practice balls to the range. We carried them in what was called a "shag bag." The caddie then dumped the balls out on the teeing area and headed down the range fairway to sit the shag bag on the ground as a target. As his player would hit shots, the caddie would retrieve his player's golf balls. It was so different from today. Back then, there would be thirty or more caddies out on the practice range. Each pro would aim and fire away at his caddie and the shag bag as target. One caddie who had fought in the Viet Nam War said, "it's like being in Nam."
Anyway, Lema was hitting iron shots on the range. The balls were landing near his caddy and the shag bag and either stopping or backing up due to backspin. A spectator kept watching this. Finally, he got up the nerve to say, "Mr. Lema, what club are your using?" Tony answered, "a seven iron." The guy then asked again, "how far do you hit that seven iron?" Tony replied, "about 165 yards." The fellow continued, "you pros are amazing at how much backspin you get on your iron shots. How do you do that?" Tony then said, "Well, tell me, how far do you hit a seven iron?" The man answered, "about 145 yards." Tony then said, "Well then, why do you want it to back up?"