[The following is a portion of a chapter in a book manuscript I intend to publish in my Still Here book series on biblical eschatology. I believe some UFO sightings–probably hundreds worldwide in the past two generations–have been unnatural phenomena attributable to angels (cf. Daniel 4.13, 17, 23; Hebrews 1.14; 1 Peter 1.12).]
Project Mogul Explains the Roswell Incident
Due to the continuing allegations about the U.S. federal government covering up the Roswell UFO incident, the Ai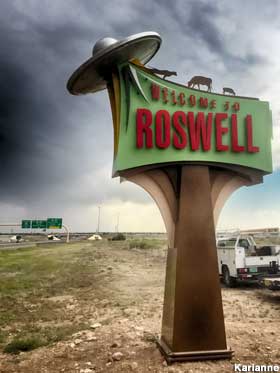 r Force re-opened the case in 1994. It selected Colonel Richard Weaver as head of an investigative team. This team left "no stone unturned" in their investigation, which also included many reported UFO incidents in the Blue Book. Colonel Weaver and his team produced a 1,000-page report of their findings. It concluded that the Roswell incident provided no evidence whatsoever of extraterrestrial beings. Weaver claimed that he himself was open-minded about discovering debris.
The Weaver team discovered new, significant information that had never been made known to the U.S. public. It was that only days prior to the Roswell UFO incident, the U.S. Air Force sent up a series of large, test balloons into the air in that region that were connected together by a 700-foot wire. Their purpose was to examine the atmosphere to detect nuclear explosions. The Air Force had a name for this test, which was Project Mogul. Most importantly, the Weaver team also learned that while these seven balloons were aloft, balloon #4 became detached from the wire and flew away separately. The Air Force described the balloon material as being a tough paper that appeared silvery and metallic. That fits the description by Marcel and his daughter of the material Marcel found in the desert.
So, it does seem that the Roswell UFO incident has a natural explanation, that it was the crash of the disengaged balloon #4 from Project Mogul. This explanation which appears to close the book on the most famous UFO incident in the world even though it actually was never an alleged sighting in the sky. Nevertheless, there are still some die-hard, American, UFO enthusiasts who are unwilling to accept it.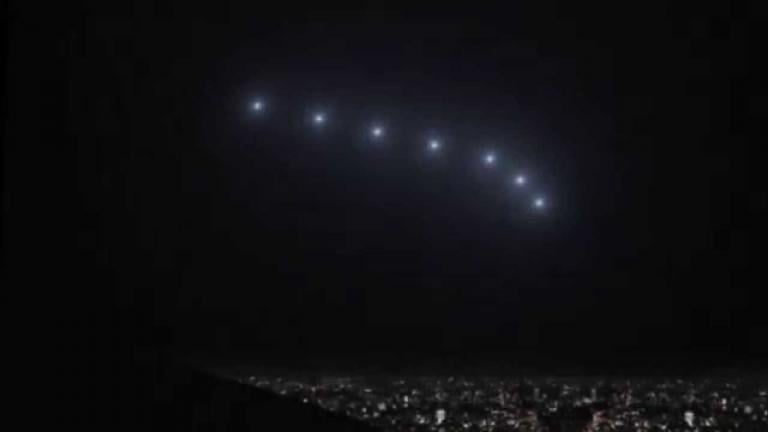 The Phoenix Lights
That is not the case with the Phoenix Lights. I have lived in Scottsdale, Arizona, since late 1998. It is located right next to Phoenix, the sixth largest city in the U.S. On March 13, 1997, one of the most amazing UFO sightings ever reported in the world was seen in the nighttime sky in a region of about 300 miles in length over Nevada, Arizona, and nearby Sonora, Mexico. The supposed incident occurred between 7:30 PM and 10:30 PM. Witnesses said it was a single object that appeared larger than a jumbo jet airplane and that it traveled north-to-south over populated areas that included Phoenix and Scottsdale. Arizona's Governor Fife Symington saw it and followed it in a car. It was witnessed by perhaps tens of thousands of people. This incident came to be called "the Phoenix Lights."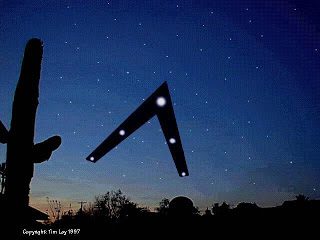 Two distinctly different types of sightings were reported and filmed that evening. The main object seen over the large region of Nevada, Arizona, and Sonora was a dark, constant formation that appeared in the shape of a V or a boomerang, and it had five circular balls of light on it. It moved through the sky at a slow, constant speed most of the time, flying at 30-50 miles per hour and making no sound whatsoever. The balls of light remained the same distance apart, with two on each wing and the other at the V-point. Witnesses said sometimes the formation stopped in the sky for a while and hovered in a stationary position. Then it would move a little in the sky and hover again. Many people filmed it with their video cameras. Some of these films were shown often on both local and national television news programs. Especially due to these pictures, the Phoenix Lights became national news.
Luke Air Force base is located on the west side of Phoenix in Glendale, Arizona. It is a large base that conducts many flying missions with the most advanced military aircraft. At first, it was thought that personnel at Luke conducted experiments, perhaps sending up balloons, that were responsible for these sightings. But Luke officials unanimously denied that their base had anything to do with it. There has never been a compelling explanation for the Phoenix Lights. This incident therefore remains unsolved.