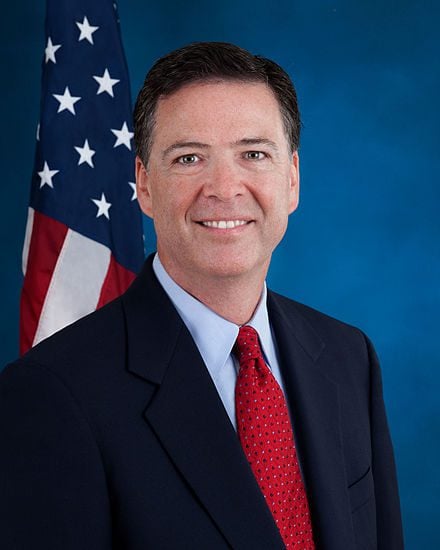 As I mentioned in my last post, former FBI Director James Comey is a devout Christian and a former Sunday school teacher in Methodism. He is also a student of the teachings of Reinhold Niebuhr (1892-1971). Presidents Jimmy Carter and Barak Obama were keen students of Niebuhr's teachings as well. While Comey has been on his book tour conducting interviews, one result is that he has been described as "a moralist."
I would be critical of Comey if he is being hypocritical, too self-righteous, or overly judgmental, but I don't think he is. However, I do think the former FBI Director has not quite owned up enough to making a mistake regarding his public announcement only days before the presidential election in November, 2016, without also telling something else. (See "Why Did FBI Director Comey Do That?" and related posts on 4/23/17, 5/4/17, 5/4/17.) He said the FBI was re-opening the Hilary Clinton email investigation without also stating that the FBI had an ongoing investigation into possible collusion between the Trump presidential campaign and Russians associated with the Russian government. Hilary Clinton believes that tilted the election just enough for Trump to defeat her.
But regarding Comey being a moralist, I think we need more moralists ("a person who teaches or promotes morality") in government. Comey gets a lot of his thinking about this from Niebuhr, who, as a Christian theologian, interacted a lot with politics.
During the 1950s and afterwards, Reinhold Niebuhr was sometimes called "America's theologian." He was a professor at the prestigious Union Theological Seminary, in New York City, for over thirty years. Historian Arthur Schlesinger Jr. described Reinhold Niebuhr as "the most influential American theologian of the 20th century." After Niebuhr's death, Time magazine described him as "the greatest Protestant theologian in America since Jonathan Edwards."
Niebuhr was a theologian who changed his thinking a lot during his career. He started out in the 1920s as a socialist and pacifist who advocated passionately for the working class and thus the formation of unions. Demonstrating his compassion for people, Niebuhr composed the Serenity Prayer later adopted by Alcoholics Anonymous. In the 1930s and afterwards, Niebuhr criticized the extreme idealism of socialism. He then became what was called then "a Christian realist" and "a political realist." Niebuhr became what's called "a Neo-Orthodox" Protestant largely influenced by the European theologian Karl Barth.
Until the 20th century, Christians, at least in the West, generally believed that the world was getting better and better, especially due to the advances of the sciences and technology. Thus, most Christians believed in what was called postmillennialism (Protestants) or amillennialism (Catholics) regarding the future as predicted in the Bible. Both of these systems of theology claim that the church will Christianize the world and then Jesus will return afterwards. But the two world wars and Holocaust of the first half of the 20th century changed all of that. It seems that Reinhold Neibuhr and many other theologians were so affected.
Ever since the mid-20th century, premillennialism has emerged as the dominant Christian view of the future, to which I hold. It means that Jesus will return first and that his utopian, worldwide government will then be brought to earth. But so many Christians equate premillennialism with Dispensationalism, which is wrong. There are two types of premillennialism: historic premillennialism and Dispensationalism. The main difference between these two regards the timing of the so-called "rapture." Dispensationalism says Jesus second coming will be in two stages separated by seven years, with the first stage the rapture, in which Jesus will come and rapture his church up in the air to himself and take it to heaven, where they will remain for seven years of tribulation on earth, and then return. Historic premillennialism believed the rapture and Jesus' implementation of the glorious kingdom of God on earth will occur at the same time, thus at the end of this age. I was a Dispensationalist for twelve years and then read myself out of it in the Bible. Thus, I have been a historic premillennialist ever since because I think it is the correct teaching about Bible prophecy.