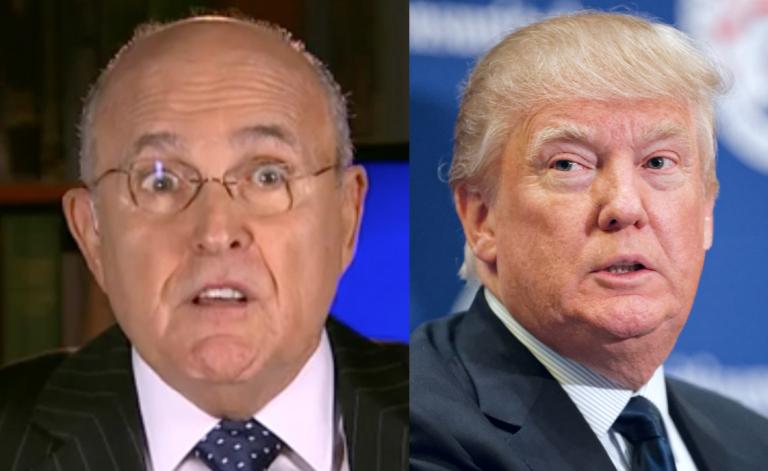 Rudy Giuliani was the big FBI crime fighter in New York back in the day. Then he became major of New York City, 9/11 happened under his watch, and he became a hero in helping to pull the nations together from such a tragedy. This week, President Donald Trump has added Giuliani, an old friend, to his legal team fighting the Russian probe into possible election campaign indiscretions directed by Special Counsel Robert Mueller, himself a past director of the FBI for over ten years.
Rudi Giuliani made the rounds this week with televised news media, defending the president and going on the attack. He attacked the FBI's government-approved raid on Michael Cohen's three places housing information relative to his activities, which include his role as Donald Trump's "fix-it attorney" for the past ten years. Giuliani called the FBI personnel involved in the raid "stormtroopers." That is a word that has been well known for being used of the Nazis. It is reprehensible for Giuliani to do that.
The big discussion now is whether or not Rudi Giuliani has helped the president's plight this week or made it worse. Attorneys are claiming that some of Giuliani's statements this week–especially those regarding Cohen's payments to porn film star Storm Daniels (Stephani Clifford) days before the election which appears to be hush money concerning an alleged sexual encounter they had in 2006–may have put Cohen, Trump's personal attorney, in further legal trouble. Incidentally, Cohen borrowed about $500,000 from a bank with collateral as two condominiums at a Trump facility own by the parents of Cohen's wife, and she signed for it. That likely makes her culpable for fraud if the money was not used as indicated by Cohen on the loan. If true, she could be looking at jail time, which would likely cause Cohen to flip–cooperate with Mueller's investigation.
There are many issues involved in this. One is that Rudi Giuliani dropped a bomb Wednesday night on Sean Hannity's TV show when Rudi gave new information– Trump reimbursed Cohen for the $130,000 payment to Stormy Daniels due to a hush agreement with her. It is being reported that Trump made this reimbursement months ago. Yet Trump said to reporters while he was on Air Force One a month ago in answer to the question if he knew about Cohen's payment to Daniels, "No." It clearly surprised Hannity, who probably has been saying on his program that Trump never had such a relationship with Stormy and never paid her such money. Perhaps no one in America has been having more influence in supporting Donald Trump as president than Sean Hannity.
Rudi Giuliani also said a bunch of other crazy things possibly hurtful to the president. He said Trump fired FBI Director James Comey because Comey wouldn't publicly say that Trump was not a target of the FBI's Russian probe. That could be used by Mueller as further evidence that President Trump has been obstructing justice regarding Mueller's Russian investigation.
Trump then admitted afterwards that Giuliani is a "great guy" but just didn't have the facts straight this week. Trump added that Giuliani has the main thing right–Mueller's investigation is a "Witch Hunt."
In July last year, President Trump said, "With the exception of the late, great Abraham Lincoln, I can be more presidential than any president that's ever held this office." What a bunch of baloney that is.
Likewise, Rudi Giuliani also said this week of Donald Trump, "This is the best president in my memory." Rudi Giuliani, YOU DON'T HAVE A GOOD MEMORY!