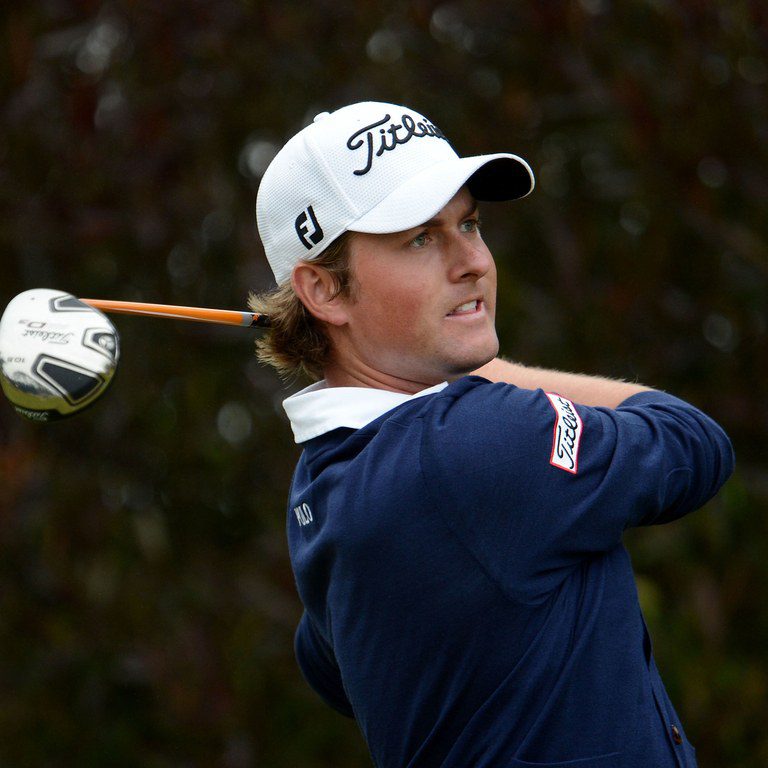 Webb Simpson–the 2012 U.S. Open Champion with three other PGA Tour wins–tied the tournament record 63 yesterday at the PGA Tour's marquee event, The Players Championship at the TPC Sawgrass in Ponte Vedra, Florida. It gave him a 36-hole total of 129 with whopping five-stroke lead starting today's third round. That is amazing golf on such a precision golf course.
Trouble lurks all over that Sawgrass layout, with water and sand yawning to gather up golf balls. In fact, Simpson's round could easily have been a 61. On the short par-three, but treacherous, 17th hole, with its green completely surrounded by water, Simpson's wedge shot landed on the top of the vertical wood piling that surrounds the green and props it up about eight feet above the water. The ball then bounded way up into the air and forward. It then landed on the back of the green and rolled forward. It then crossed the wood piling on the back of the green and plopped down into the blue H2O. Simpson walked off that signature Pete Dye hole with a double bogey five.
Pete Dye is the famous architect who designed this golf course. His signature item in designed golf courses was vertical wood pilings. I know Pete Dye. He was a good guy. Except some of us pros thought he must have had nightmares that he made into golf courses. Jack Nicklaus started his career as a golf course designer, early in his Tour career actually, under Pete's tutelage.
Just minutes ago, superstar Tiger Woods–who is recovering from four recent lower back surgeries and trying to make a late-stage comeback in his marvelous career–posted a seven-under par 65. That is his lowest score in competition since he restarted his career lest than a year ago. He had barely made the 36-hole cut at one-under par and yet presently stands at tied for eighth place.
Webb Simpson is a strong Christian who graduated from Arnold Palmer's alma mater Wake Forest University, North Carolina, with a degree in Christian theology. He is one of the several players who attend the PGA Tour Bible Study weekly meetings on Tour. Simpson speaks very openly about his Christian faith. He has a strong conviction about sharing it with people. He reportedly posts Bible verses often on his Twitter account.
Webb Simpson seems to me to be an excellent manager of his game. To do that, you be able to think your way well around a golf course. He one of the last players standing on the PGA Tour who still uses the long putter. But he does it differently than most by gripping the club at about the same distance from the putter head as with a standard length putter. Thus, the last foot of the club shaft extends up toward his upper body. This technique produces a balancing effect to the club, sort of like a tight-rope walker performing in a circus while carrying a long metal bar walking across the suspended rope.
While I was competing on the Senior/Champions Tour, I believed in this putting style that Webb Simpson now uses even though no one had ever used it on the regular PGA Tour or Senior/Champions Tour as far as I knew. I practiced it a lot at home. But I never had the nerve to try it in competition on Tour back then in the 1990s. I practiced it at home in those days because I thought it improved my putting with the short stick.