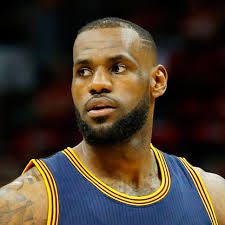 For me, definitely not. After losing game 1 in overtime to the Golden State Warriors, Cleveland Cavaliers superstar Lebron James was answering questions in the televised press conference and then walked out before journalists had finished questioning him. It was obvious that this was a tough loss for him. He had just scored 51 points to place him in about sixth position for the most points scored ever in an NBA Finals. So, he played a great game and they lost in overtime.
Lebron walked out of the press conference early because he had been asked twice about a blunder his teammate J. R. Smith made in the final approximately five seconds of regulation play. It was a difficult question that Lebron shouldn't have had to answer in the first place because it was not about him; it was about J. R. Smith. Lebron said once that he didn't know what J. R. was thinking in those final seconds. When another journalist asked Lebron the same question again, Lebron walked out. I don't blame him. The journalist was at fault. Furthermore, everyone in the room should have immediately realized the journalist was at fault, and therefore someone should have shouted out and told they guy that Lebron had already answered the question.
First of all, it was a really tough loss for the Cavaliers. They are the underdogs in this Finals of the NBA Championship. These two teams have gone to the finals against each other the last four years. That in itself is a record in modern times. And Cleveland had some bad officiating calls go against them, much more so that Golden State had. Cleveland coach Tyronn Lue said in the press conference that Cleveland was "robbed" of the win due to officiating. I wonder if that could draw him a fine. But I think he was right. Of course, it's tough to officiate basketball games.
Here's what happened. With about five seconds left in regulation play, Cleveland's George Hill got fouled. He had two foul shots and Cleveland was one point behind. He made his first foul shot to tie the game. Then he missed his second foul shot and J. R. Smith got the rebound. So, J. R. wasn't but a few feet from the basket when he got the ball with about five seconds left on the clock. But instead of trying to get a shot off or passing to a teammate who might be more open for a shot, he started dribbling the ball to the right side of the court and into the backcourt, going toward teammate Lebron James. If he wasn't going to call time out, he should have thrown it James, arguably the best player on the planet to score in that situation. Lebron was making a hand signal to J. R. as if to tell him to call timeout since it looked like he was just trying to protect the ball rather than make a play. In doing that, it looked like J. R. thought his team was one point ahead rather than tied. Plus, Lebron James was open, so that J. R. could have passed to him instead of dribbling so much toward him. Instead, after J. R. dribbled into the back court he turned and threw the ball to the player in the right corner (I forget who it was). He took a shot that was blocked by Golden State player Draymond Green as the clock ran out.
So, everyone watching the game, as well as the players, wondered what J. R. had been thinking when he did that. He was asked immediately after the game by journalists, while court side, about it. He answered by saying that he did know the game was tied. Some people will question that, thinking he was lying. That certainly is not something that his teammates want to comment on, especially right after the game. Of course, if he did think Cleveland was one point ahead, that would be a great embarrassment.
Lebron James definitely should not be criticized or fined by the NBA for walking out. I think journalists sometimes should be fined. Some of them try was too hard to provoke. It's obviously to enhance their careers at the players' expense since they can lose their composure and suffer in various ways for that.