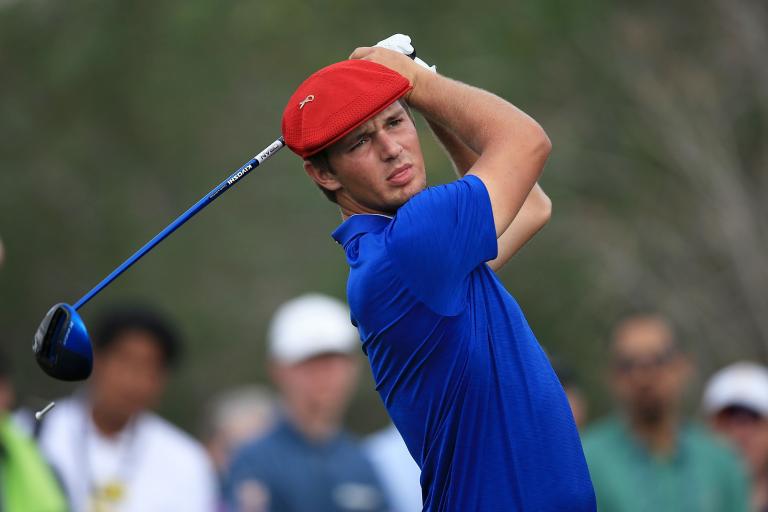 Two hours ago, Bryson DeChambeau won the Memorial Tournament at Muirfield Village, near Columbus, Ohio, in a three-man playoff on the second playoff hole against Kyle Stanley and Byeong Hun An for Bryson's second win on the PGA Tour. He admitted in the televised interview that his tee-to-green game was not spot-on this week, especially today, but that he somehow got the job done with his short game. He was elated to win the one tournament on the PGA Tour that is hosted by the legendary Jack Nicklaus. In fact, Muirfield Village is another "house that Jack built." This tournament always has a stellar field, making this a great win for the six-year veteran Tour player who is also a bit of an intellectual.
Bryson DeChambeau takes perhaps the most unorthodox approach to the game of golf of any PGA Tour player. His irons are the same length and about the same lie, which is unheard of in golf, let alone in pro golf. He stands extremely erect at address, with the ball teed close to him. And there is an imaginary straight line between his arms and the club shaft. For those who know the game, it looks a bit awkward. Then Bryson swings the club with little wrist cock on both his backswing and follow through. But the result is that he usually hits the ball pretty straight and thus keeps the ball in play well.
All three players tied at 15 under par, 273 total. Both Stanley and DeChambeau had bogied the last hole. Both playoff holes were on the par-four 18th hole. It is a difficult driving hole in which many players hit a three metalwood off the tee. DeChambeau birdied the second playoff hole with a 12-foot birdie putt.
Tiger Woods had it going on Saturday and then finished rather poorly. He finished the tournament at 23rd place. It was his putting that let him down, which is unusual for Tiger. In recent years, I've been critical of Tiger's swing. But not now. He has a good swing going, and thus he is hitting the ball quite well. Today, he another couple of bogies on the back nine to shoot par 72. Tiger is encouraged, and that's good for the pro game.