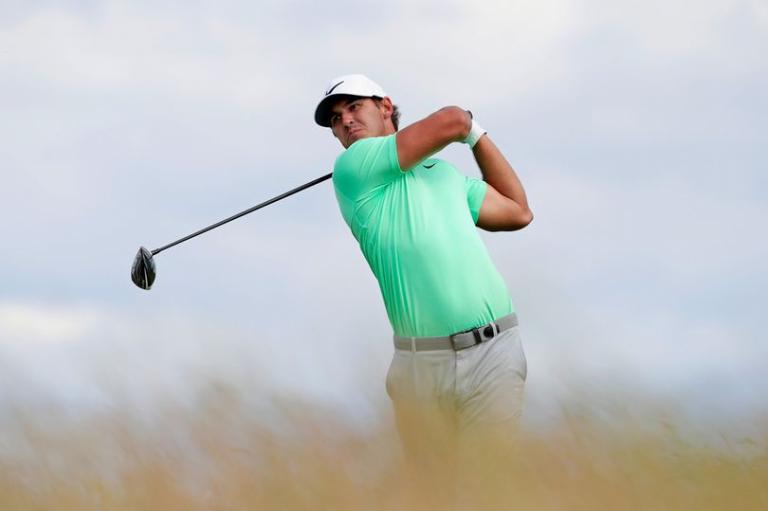 Brooks Koepka continues to prove why he was chosen as the Player of the Year last year, having won two majors. He moved into World #1 today as he won the PGA Tour's CJ Cup at Nine Bridges on Jeju Island, South Korea, by four strokes over Gary Woodland. It was Koepka's fifth PGA Tour win and third in the past eleven events he has played. The 28-year old, long-hitting Brooks Koepka has thrust himself into a position in pro golf like no other since Tiger Woods. Muscled and athletic-looking, Koepka excels at all phases of the game.
Plus, during crunch time, Brooks Koepka plays golf like he has ice-water in his veins. He rarely gets emotional when good things happen, almost Hoganesque. And nothing seems to perturb him. He just goes about his business, hits the ball, goes and finds it, and hits it again, like there is nothing to this game. He absolutely makes it look easy.
Brooks Koepka is a majors player. No one has ever won three majors in their first four wins on the PGA Tour except Brooks Koepka. He is so confident about his game on the tough golf courses in the most big-time events that he says, matter-of-factly, that he thinks his game is suited perfectly for the majors. Of course, it's the majors that define greatness in professional golf. Brooks Koepka is headed there like perhaps no other. And that's pretty ridiculous to say when you think of Tiger Woods winning fourteen majors and Jack Nicklaus winning eighteen.
Today, it wasn't all that easy for Koepka because another athletic guy and a long hitter, Gary Woodland, was giving Brooks a run for his money. Throughout the back nine, until near the end of it, both players were making birdies, first Gary and then Brooks, as Brooks was playing in the last group and Gary two groups ahead. Brooks kept managing to stay one stroke ahead of Gary. Woodlands finished with a 63 that included a whopping eleven birdies and Koepka had a 64 that included a twenty-foot eagle putt for a 29 on that back nine.
The turning point between these two elite competitors came almost simultaneously when Gary was one stroke behind Brooks and playing the par three 17th hole while Brooks was playing the par four 16th hole. Woodland hit a fine iron at the pin which was tucked right in front of a back bunker. His ball barely overshot the green into the bunker for a rather difficult shot. Woodland blasted out and made bogey just as Koepka hit what looked like a blind pitch from thick rough beside the green and the ball clanged against pin and went in for a birdie. If the ball would have missed the pin, it surely would have gone ten feet past the hole or more. It was an instant two-shot swing, putting Woodland three shots back of Koepka.
I watched a slow motion video of Brooks Koepka's swing with a driver during the televised event. I was surprised that his legs seem to just go along for the ride, serving as no more that posts that stabilize his the swinging of the club with his upper body. I would have thought that someone who hits the ball that far would be generating more power with his legs than that, especially since they must be quite powerful for a pro golfer. Instead, Koepka is so powerful with the turn of his upper body, with muscled arms that move heavy weights in the gym almost daily, that's it's as if he doesn't need his legs except to anchor the motion of his upper body.
Koepka doesn't transfer much of his weight to his back foot on his backswing. By doing that, he wouldn't be as good a player as he is if he didn't have his strong body. This is noticeable because his head stays stationary throughout his backswing. He then rotates his hips a little on his downswing with very little lateral movement toward the target, which I like. Yet in doing so, he does have about three inches of upper body recoil on his downswing, in which his moves back and down. He could be an even better player if he eliminated this by shifting more weight to his back foot on his backswing, resulting in his head moving back perhaps two inches or more, as Justin Thomas does. The great Ben Hogan was the epitome of weight transfer, moving his upper body back several inches on his backswing and forward on his forward swing more than a foot. I know; I have film of several swings of Ben Hogan. Yet Brooks does move his head several inches toward his target on his follow through, which is good. A noticeable result of this is that Koepka has his left leg very straight at impact and thereafter. He also is up on his toes with his right foot early in his downswing, which is a result of how he swings so hard at the ball.
What helps make Koepka a great and consistent ball striker is that he keeps his head down a long time after he hits the ball, similar to Lee Trevino, Arnold Palmer, and Johnny Miller. This feature of the golf swing makes a player especially good when the pressure is on. However, LPGA great Annika Sorenstam looked at her target very early on the forward swing, which is just the opposite. But she did it by standing tall, moving her weight considerably and finishing her swing with so much weight on her forward foot. All of this made it possible for her looking at the target early in forward swing to not be a problem, perhaps even an asset.
Koepka does something in his swing like Arnold Palmer did which is not advisable at all–the left arm is bent, thus not straight, at impact. This actually reduces club head speed and can create some inaccuracy. Gary Player always preached having a straight left arm (for right-handed golfers) at impact. Interestingly, the great pros who had the straightest left arm at impact were those who had a bent left arm at the top of their backswing. Three come to my mind the most: Harry Vardon, Walter Hagen, and, bringing us more into modern golf, Curtis Strange. Curtis used to preach that the common belief that you should have a straight left arm at the top of your backswing was one of the great myths about the golf swing. I think he was quite right.
However, Koepka has such amazing extension on his upswing which contributes a lot to his great and consistent ball striking. This was the main feature of the two greatest ball strikers of all time–Moe Norman and Ben Hogan. It is quite a contrast to the upswing of Koepka's best friend on the PGA Tour–Dustin Johnson–whom Koepka just dethroned as the World's #1 player today. Long-hitting Johnson swings with a very closed club face in his backswing (which Koepka does a little also). On Johnson's downswing he releases his wristcock to square the clubface at impact by a very generous amount of throwing of his arms. That is a big source of his long, prodigious drives. In order to do this, on his upswing Johnson must open the club face a huge amount by cupping his left wrist. The result is that he has the least amount of extension of any PGA Tour player on his follow through and has a very sharp angle between his arms and the club shaft near his finish. This makes Dustin Johnson more dependent on the timing of his swing, which results is some inconsistency day-in and day-out.
But despite these minor deficiencies in Koepka's swing, he is a marvel to watch play the game of golf. If all goes well for him physically, which it looks impossible that it won't, he may be World #1 for quite a while. But if Dustin Johnson ever decided to swing less shut-to-open, resulting in more extension on his upswing, there could be a rivalry between these two very long-hitting friends the likes of which we have never seen in professional golf.