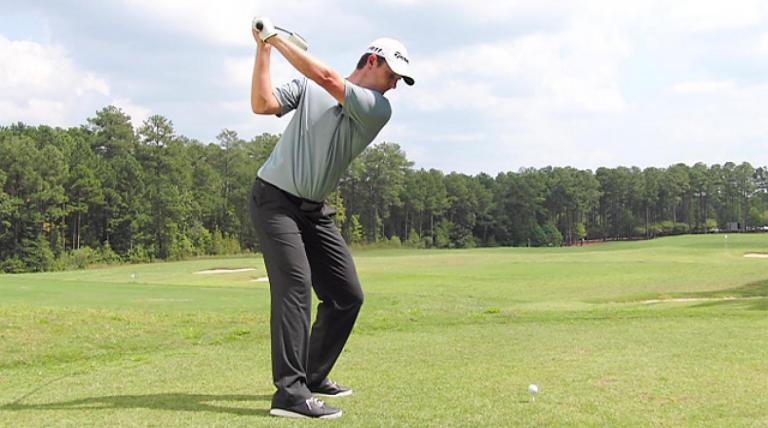 England's Justin Rose shot a 3-under par 69 today to take a three-stroke lead into tomorrow's final round of the Farmers Insurance Open at Torrey Pines Municipal Golf Course in San Diego, California. Australia's Adam Scott shot 65 to be alone in second place. Rose could have widened his lead on the back nine. He had a six-stroke lead and then double bogeyed the easy 14th hole on the South Course. And on the 18th hole, with what looked like a good lie in the junior rough, he hit a 3-metalwood fat-hook, which should have been a cut shot, and dumped it in the small pond fronting the green to finish with a bogey.
Both Rose and Scott are outstanding ball strikers. In recent years, Justin Rose has been the best ball striker in the world. It shows right now since he occupies first place in World Sony Rankings. And he has had that position in recent years.
Justin Rose is one of the few players on the PGA Tour who starts his downswing and the rotation of his lower body at the same instant. Before he swings, especially with the long clubs, he often makes a practice, half-swing maneuver which helps him to make that simultaneous start with the two body parts, i.e., upper and lower body. Most Tour players start the downswing with their lower body so that the upper body follows it.
Tiger Woods has returned to Torrey's hallowed grounds, for him, by barely making the 36-hole cut and shooting 70, 70, and 71. He won the last major of his 14 majors here–the 2008 U.S. Open in a playoff–while heroically playing on a bum left knee. I say "hallowed" because when Tiger about 8 to 10 years old, his dad asked him for his birthday where he would like most to play golf. Tiger immediately answered, "Torrey Pines."
I used to play the San Diego Open several years there at Torrey Pines. It is a beautiful layout along the Pacific Ocean. But I could never putt those Poa Annua grass greens. (We all used to pronounce it "poanna," not knowing any better.) I think those greens are a lot better now. Maybe they wouldn't give me nightmares anymore.