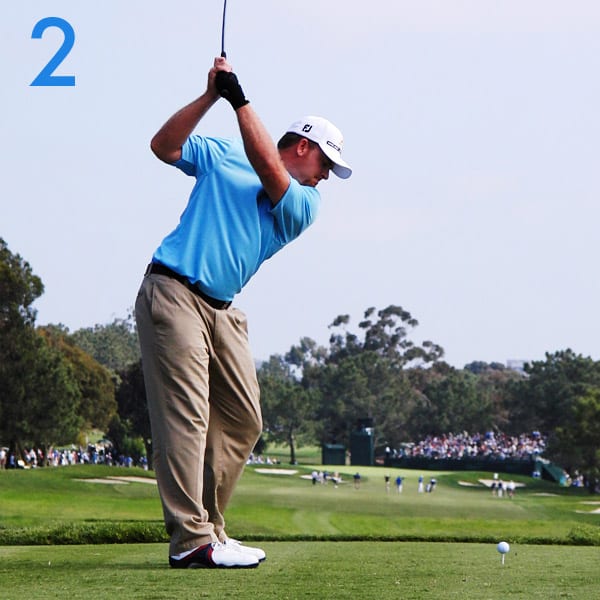 In the last round of the Genesis Open today, the wind blew, the leaders fell down, and the last man standing to lift the trophy at the end of the day was red beard–J. B. Holmes. The wild action was performed on stage at the famous Riviera Golf Club in Pacific Palisades, a suburb of Los Angeles, California, near tinsel town Hollywood. It was Holmes' fifth win on the PGA Tour.
The wind increasingly picked up speed, gusting to 30 miles per hour. It blew in off the Pacific Ocean, two miles away, ascending up the barranca along the east side of Riviera. Justin Thomas admitted afterwards that it upset his game, but only on the greens. It certainly looked like it.
This Genesis Open got off to slow start due to inclement weather. The first day was rained out. That always puts pressure on tournament officials to try to get the event finished on Sunday. So, the leaders today had to play 34 holes. At the end of three rounds this morning, Justin Thomas, the #1 pro golfer in the world in World Rankings, had a four stroke lead over J. B. Holmes and Adam Scott. All three were playing together in the last pairing, which made for an exciting finish.
It was about the same when they started the last nine holes. When Justin Thomas 3-putted the 12th hole, television commentators said that was his first 3-putt in his last 191 holes of competition on the PGA Tour. That's quite a record.
But it seems that 3-putt was the start of another record, just in the opposite direction. For, Justin then 4-putted the 13th hole, and 3-putted the 14th hole. He kept missing relatively short putts. In fact, he had to make a two-footer on the 4-putt. The other two boys weren't doing so great in that department either. Holmes 3-putted the 11th hole from a mere three feet! And Scott missed a bushel of putts from inside eight feet. It was maybe the biggest meltdown I've ever seen on the PGA Tour on the green carpets. Moreover, it was by three pros who were paired together in the last round and leading the tournament, with the biggest putting collapse coming from the world's current #1 player.
By the 15th hole, Holmes now had a two stroke lead over Thomas. To further make it interesting, both are among the longest hitters on the Tour; yet they are not big guys. Holmes stands about 5′ 10″ and Thomas is about the same, weighing only 165 pounds. But Holmes hit his drives and mid irons into the teeth of the wind right down the middle and safe on the middle of the greens on 12, 13, 14, and 15.
But on the 175 yard par three 16th, J.B. had a hiccup as his ball landed in the right, green-side bunker with a tough shot to a tucked-right pin. Justin hit a nice first shot 10 feet from the hole for a makeable birdie putt. J. B. putted first from nearly 15 feet going downhill. He hit it right in the middle of the cup at the perfect speed. Justin made his birdie putt to put him one stroke behind J. B.
Thomas' undoing was an uncharacteristically poor drive on the reachable par-five 17th. He had to negotiate trees to get a third shot from about 130 yards in the fairway, which he played to a respectable eight feet. Holmes blasted a good drive up the middle and a long iron to about thirty feet from the pin for an eagle putt. Holmes easily two-putted and Thomas missed his birdie. Holmes coasted the last hole with a two shot lead as both players parred that 18th hole.
When the wind kicks up, putting can be difficult even if it doesn't blow the ball. If you miss a short putt, that sound of the wind gets in your head. It's mental, of course, especially when the pressure is on because you are in the hunt. I used to wonder if I'd do better in those circumstances if I put cotton in my ears. But I never did try it.
With all due respect for Justin Thomas, J. B. Holmes deserved the win. In 2011, doctors discovered a misdiagnosis and that he needed brain surgery. After that surgery, he suffered an allergic reaction and had to have another surgery. The poor guy recovered and has been doing fine ever since.
Before that happened, J. B. was my favorite player on Tour for a while. It was because he could hit the ball so, so far. I couldn't figure out just watching him how he could do it. He made it look so easy with very little turn of his body on his backswing, with a short backswing and hardly any wrist cock at the top of his backswing. All of this makes most golfers hit the ball short. But not J. B. He gets his hidden power by creating so much torque in his lower body on his downswing. He does it by rotating his hips so early on his downswing, even before his finishes his backswing. That causes club head speed, and that' what J. B. has got in order to hit the ball so far. But it can cause you to miss right. However, J. B. swings the club shut (closed face) on his backswing, so that usually prevents him from missing right. Interestingly, J. B. takes the club back on the inside and with a closed face whereas Justin works real hard, even making a little practice backswing on all his shots, looking at his club face to make sure it stays open and thus doesn't get closed. As they say, to each his own or there's more than one way to properly swing a golf club.
J. B. Holmes is an evangelical Christian. He sometimes appears with other Christian guys on Tour at public meetings in which he gives his Christian testimony. I've heard him do that at the Waste Management Phoenix Open, near where I live. I think he attends the PGA Tour Bible Study.