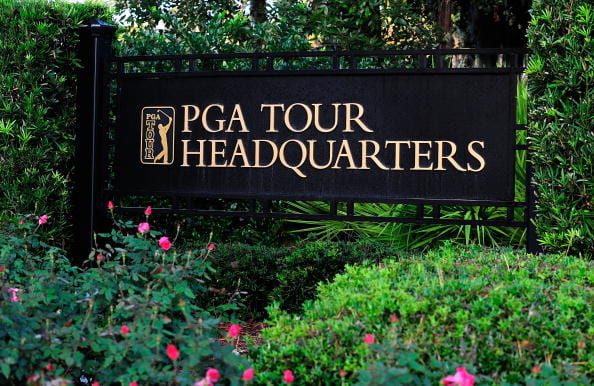 As I posted Sunday, J. B. Holmes, one of my favorite players on the PGA Tour, won the Genesis Open for his fifth win on Tour. J. B. is catching a lot of flak on social media right now since he is one of the slowest players on Tour. In that last nine holes Sunday, he took a lot of time to hit some of his shots. He afterwards defended himself, which wasn't the right play.
In recent years, the PGA Tour has been increasingly negligent in enforcing its pace-of-play rule/guidelines. This is a serious problem, not just for the PGA Tour but for the game of golf. When fans watch PGA Tour tournaments and see pros taking five hours to play a round of golf, that can cause people to not only not watch the tournaments, whether in person or on TV, but not want to play golf. In fact, in this century, golf in the U.S. has lost something like 20% of the total number of people who play golf.
The problem is the people who run the PGA Tour–the PGA Tour Policy Board. This group sets policy, thus makes the decisions, and the Commissioner and his field staff implement it. The Board usually has consisted of ten members. Nowadays, it four player members (Tour pros), the president of the Professional Golfers Association of America, and five members who usually are prominent business folk, such as CEOs of corporations or those who are retired. It looks to me like the problem is with the latter. The reason I say this is that when I was still playing, the lot consisted of four player members, the three top executives of the PGA of America, and three of the latter. That gave the Board seven people who actually made their living from golf. Businessmen on the Board are not likely to get tough about slow play, and that's what the Board now needs and has needed for maybe going on ten years.
When I was still playing the Champions Tour, the pace-of-play rule/guideline adopted by the PGA Tour for its tournaments was that when it came time for a player to hit his ball, he had forty seconds to do so. (I think it was thirty seconds for drives.) If a Tour official saw a player take more than forty seconds to play, that official started timing that player on the rest of his shots. This is still called "being on the clock." If that player got another "bad time," when he finished his round he would have a note in his locker identifying the bad time and a monetary fine that he had to be pay to the PGA Tour.
Back in the 1990s and early 2000s, that first time infraction in a round was about $500. But if that player got another bad time during that round, the next retribution was either a one-stroke or a two-stroke penalty added to your score. The official would then tell the player of this fact before he played his next shot. The official would keep timing that player until he had several good times in succession. When he did, the official would quit timing the player and depart. That player would then be "off the clock."
Over the decades of my pro golf career, the PGA Tour could be inconsistent about its enforcing the pace-of-play rule/guidelines. Tour officials would get tough about it for a while, and then they would be lax about it. I never knew why that happened. I thought that was a poor policy for the Tour. If you're going to have rules in the game, they should be enforced.
I say that even though I was not a fast player. In fact, I was a little on the slow side. Sometimes, I had to work at maintaining the proper pace of play. But I always believed that that was my problem and that I needed to deal with it. Thus, I believed there should be a pace-of-play regimen on the PGA Tour and that it should be enforced.
In watching PGA Tour tournaments on TV over the past several years, I've been astonished at how Tour officials don't require players to maintain this pace-of-play rule/guideline by putting them "on the clock." It seems like some Tour players hardly ever hit their shot in the forty-second time limit. This needs to change or else the PGA Tour, which officially is committed to "growing the game," will not only continue to be negligent about pace of play but will look like a hypocrite. Golf officials allowing slow play does the opposite of growing the game.