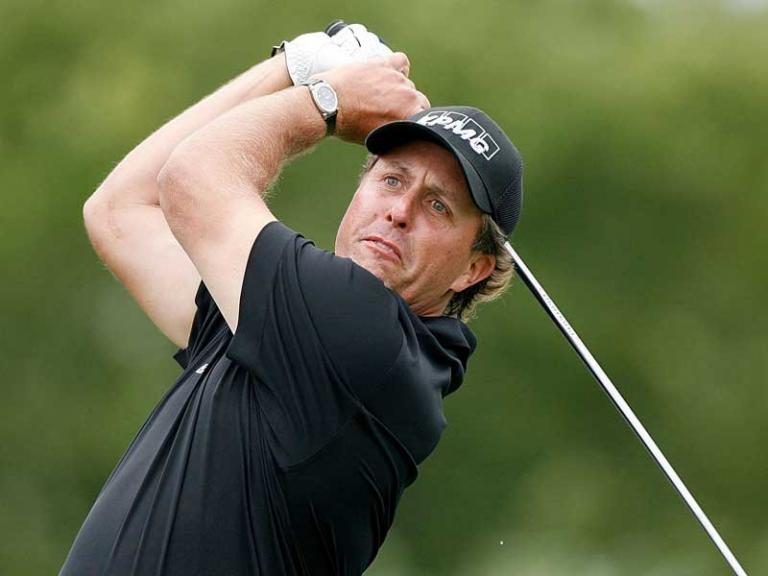 The PGA Tour pros fought rain and hail today at the AT&T Pebble Beach Pro-Am at Pebble Beach Golf Links in Monterey, California. The inclement weather, which included a wind chill as low as upper 30 degrees, caused delays totaling three hours and twenty minutes. Play finally was suspended due to darkness, with three holes left to be played for the last group.
The journeyman Paul Casey from England started this fourth and final round today with a three-stroke lead over legendary, 48-year old Phil Mickelson. Lefty–a shoe-in future Hall of Famer–is contending for his 44th win on the PGA Tour. At the end of play today, things were reversed: Mickelson had a three-stroke lead at 18-under par over Paul Casey and Scott Stallings. Mickelson won his first PGA Tour tournament here, in 1998. If he wins tomorrow, it will tie him with Mark O'Meara in winning this tournament five times.
The aging Mickelson was certainly surviving the elements well. He is six-under par for sixteen holes on the famed Pebble Beach layout with its bumpy greens when soft like they were today. (Those spiked-up, poanna bent greens used to give me nightmares in my day.) Casey has a three-foot par putt on the 16th green.
All Mickelson needs to do tomorrow–when they tee off at 8:00 AM local time–is stay allergic to Big Blue and steer that little white pellet onto the short grass. Then he'll arrive home free to lift the silverware or whatever in the celebration on the 18th green in front of Del Monte Lodge and those television cameras.
Pebble Beach was my favorite golf course on the PGA Tour. The closest I ever came to glory in my profession was there in 1972. I was leading the U.S. Open through the sixth hole. Then I made disastrous mental errors, finishing sixth to winner Jack Nicklaus.