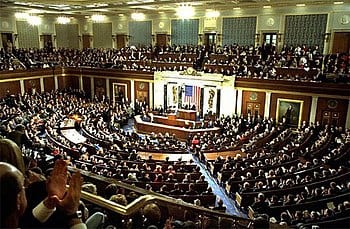 Today, the U.S. House of Representatives in the  Congress is scheduled to vote on a resolution to either condemn anti-Semitism, it and Islamaphobia, or to include other racial entities as well or simply racism in general. This issue has been prompted by several allegedly anti-Semitic statements made in recent days by freshman congresswoman Ilhan Omar (D-MI), one of only two Muslims ever chosen to the U.S. Congress. Pretty, 37-year old Ms. Omar was born in Somalia and moved to the U.S. at age twelve. I may address her recent comments in a subsequent post. My focus here is on anti-Semitism.
The article on anti-Semitism in the Encyclopedia Britannica begins by saying that anti-Semitism is "hostility toward or discrimination against Jews as a religious or racial group. The term anti-Semitism was coined in 1879 by the German agitator Wilhelm Marr to designate the anti-Jewish campaigns under way in central Europe at that time. Although the term now has wide currency, it is a misnomer, since it implies a discrimination against all Semites. Arabs and other peoples are also Semites."
So, anti-Semitism is clearly a misnomer and always has been. In actuality, it is an ingenuously derogative term for not only Jews but other Semitic peoples of the world, who far outnumber Jews and include Arabs. The word Semite derives from the name Shem. Semite refers to the Shem who was one of the three sons of the biblical figure Noah who had to do with the great flood mentioned in the Bible, in Genesis 5:28-10:1. It is believed that the descendants of Shem migrated throughout the Middle East.
This raises the question about whether or not there is a more appropriate term for discrimination and hostility toward Jews than anti-Semitism. I think there is and that it should be anti-Jewism. What do you think?
Anti-Semitism is a sensitive subject for me mostly because I write books on Christian theology and biblical studies. And one of these books, entitled
Palestine Is Coming.
, is about the Israeli-Palestinian conflict in which I take a more sympathetic position toward Palestinians than is common here in the U.S., especially for an evangelical Christian such as I claim to be. More particularly, I write books on eschatology, in which Jews and their history have such a prominent role. Even though I am a Gentile, for this reason I feel a strong kinship to Jews. I often describe my religious faith as belief in "the Judeo-Christian God through Jesus Christ."
I totally condemn hatred of Jews, and I always have. But then, I also condemn hatred towards any other ethnic groups. I believe that all human beings were made by the Judeo-Christian God in his image. This God commands unequivocally, "love your neighbor as yourself" (Leviticus 19.18). It's a tall task, but we should all strive to do it.
When Jesus was asked by a lawyer about what was the greatest commandment in the Jewish Torah, he answered, "'You shall love the Lord your God with all your heart, and with all your soul, and with all your mind.' This is the greatest and first commandment. And a second is like it: 'You shall love your neighbor as yourself.' On these two commandments hang all the law and the prophets" (Matthew 22.37-40).
Racial hatred is a most extreme form of selfishness. There are no human beings who chose some race in which they were born. All humans should realize that they could have been born of some other ethnic derivation, so that they could have been born a Jew or an Arab or whatever. To me, it makes no difference what our skin color is. What matters is what is in our hearts. That is what the U.S. House of Representatives is going to try to address today.
(BTW, I have a lovely Jewish daughter-in-law and an intelligent, tall, and pretty nine-year old Jewish granddaughter. She excels at mathematics, and she can already almost beat me in a game of chess. Grandpa needs to brush up on his game or he's going to get beat soon.)