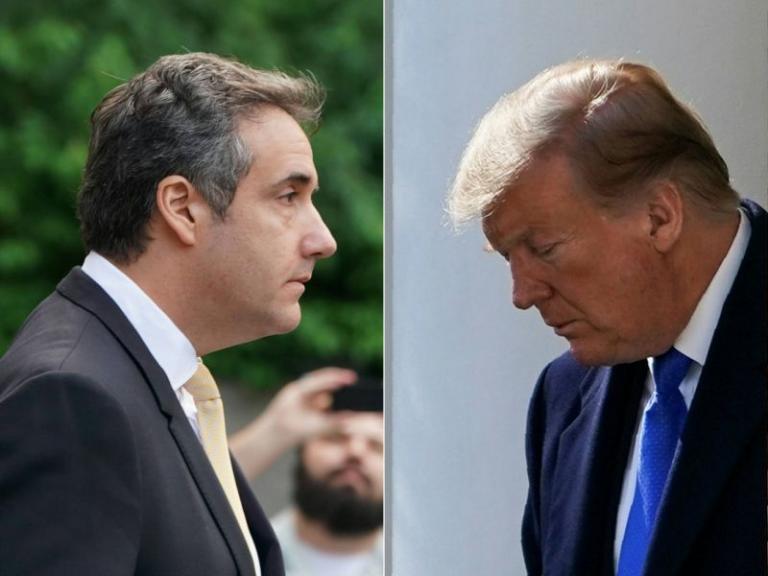 Ever since Donald Trump's personal attorney Michael Cohen flipped on him last summer and admitted crimes, for which he is soon going to prison for three years, he appears to be telling the truth. And he knows that he better be. He has a plea bargain with special counsel Robert Mueller and thus with the Justice Department's Southern District of New York to tell the truth about his dealings with Donald Trump and answer any questions truthfully to both. Furthermore, he is being called before the House of Representatives multiple times these two weeks and being grilled by committee members for many hours each time. He better not lie to Congress either or he'll do more time in the slammer as well. These Republican committee members last week seem to have ignored this in what appeared to be a White House choreographed attack on Cohen's credibility. And they avoided discussing what Cohen was saying. I thought they appeared lame.
Some things have emerged recently in this political mess about Donald Trump that involve three Jews connected to him, or at least two of them are still connected to him. Michael Cohen is apparently a secular Jew; Jay Sekulow is a "Messianic Jew;" Jared Kushner–Trump's son-in-law, presidential advisor and architect of a new proposal for solving the Israeli-Palestinian conflict that is about to be made public–is a Torah-observant Orthodox Jew. Cohen and Sekulow now disagree about two important things that could cause either one of them prison time.
First, Cohen says Sekulow edited Cohen's speech that Cohen delivered to Congress last year about negotiations with Russians to build a Trump Tower in Moscow. In that speech Cohen said he, at Trump's direction, ended all such discussions with Russians about this proposed project in January, 2017, when Trump took office as president. This is important because Trump could have been compromised as president. And Trump thereupon said repeatedly and publicly that he had no business in Russia. But Cohen admitted to special counsel Mueller last summer that what he said to Congress was a lie. Cohen now says he actually continued these negotiations until June, 2017. Cohen also says he and Trump discussed this Moscow project proposal at least six times during those first six months of Trump's presidency, with Trump often initiating those conversations.
Cohen now says that Sekolow, Trump's personal attorney during this time, not only knew in advance that Cohen was going to lie to Congress about this, but Sekulow actually was involved in editing that speech. Yesterday, Cohen reportedly submitted physical evidence to Congress to support his allegation about Sekulow did edits to it. Sekolow said today unequivocally and firmly about Cohen's allegation, "not true."
Second, Cohen testified last week before Congress that he did not ask President Trump for a pardon for his wrongdoing for which he is about to be imprisoned and that he would not accept such a pardon. Lanny Davis, one of Cohen's attorneys and now his spokesperson, explained the timing. He says that prior to the SDNY breaking into Cohen's house and offices to get evidence last spring, Cohen had directed one of his attorneys to ask Trump's lawyers if Trump would pardon Cohen if he was found guilty and sent to prison. Davis says that immediately after that SDNY break-in, Cohen had a change of heart about this. But Sekulow now says there was no such request for pardon by Cohen or his attorney. This also is important because of the difficulty Trump could find himself in regarding his discussing pardons. It could be considered a form of obstruction of justice.
Third, it has been reported only in the past few days that President Trump disregarded his advisors warnings that Jared Kushner should not be given a security clearance regarding sensitive and classified government information. This raises the question of what Trump's security people, such as the CIA, discovered that could subject Kushner to be the victim of leverage from foreign government operatives. Congress now is investigating this matter as well, as if there is not enough about this mess already. Congress is demanding that the White House turn over documents and other physical evidence concerning President Trump giving his son-in-law a security clearance, which is legal, despite the president's experts telling him not to do it. And the pertinent Congressional committee chairman now claims that he will subpoena the president about it.
I just find it interesting that three American Jewish men of quite differing religious convictions, who have been very close to Donald Trump as president, find themselves right in the middle of this political upheaval that I have been calling Trumpgate and that I suspect could make Watergate look like a Sunday school picnic!