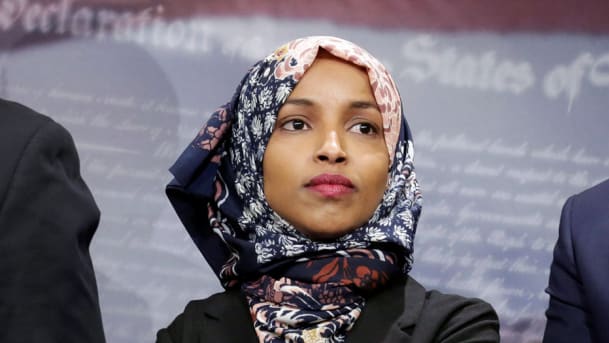 The U.S. House of Representatives voted yesterday on a resolution that condemns racial hatred and ethnic bigotry. The resolution gets specific by condemning "hateful expressions of intolerance" toward "African-Americans, Native Americans, and other people of color, Jews, Muslims, Hindus, Sikhs, immigrants and others." The vote was overwhelmingly in favor of the resolution–407 to 23.
In recent days, House Speaker Nancy Pelosi had been like a magnificent circus performer juggling of a bunch of balls in the air as she orchestrated the resolution. All of this occurred as a result of freshman Congresswoman Ilhan Omar's (D-MI) critical comments against U.S. favoritism toward the State of Israel which has threatened the peace of the Democratic party. Ms. Omar's remarks were intended to be supportive of the Palestinians in the decades-old Israeli-Palestinian conflict that never goes away but just gets worse and worse and worse. But Ms. Omar's remarks have been taken by many as being anti-Semitic. Pelosi has defended her but said that Ms. Omar could clean up her rhetoric and thereby smooth things over. Ms. Omar's comments on this subject are made more relevant because she is a member of the House Foreign Affairs Committee which oversees U.S. Middle East policy.
Thirty-seven year old Ms. Omar, one of only two Muslim members of the House, had alleged that U.S. citizens influenced by the Jewish lobbying group American-Israel Political Action Committee (AIPAC) were effectively exercising "dual loyalty" toward the U.S. and the State of Israel. Ms. Omar later explained that American activists who are pro-Israel are advocating "for allegiance to a foreign country." She had also said of U.S. support of Israel, "It's all about the Benjamins, baby." She was using the title of a Hollywood movie which calls American hundred dollar bills "Benjamins" because they have a headshot of Benjamin Franklin. Ms. Omar meant that U.S. support of Israel is influenced much by wealthy donors to lobbying groups on Capitol Hill such as AIPAC.
K Street
President Donald Trump has just now continued in his ongoing debacle of making this situation worse because he is strongly influenced by Christian Zionists and he has a Jewish son-in-law, Jared Kushner, who is now his advisor regarding the Middle East. As President Trump was about to board an airplane, he called the Democratic party an "anti-Israel party" and a "anti-Jewish party." Well, due to especially Ms. Omar's recent comments, the Democratic party is undergoing infighting over this issue. It centers a lot on age. Younger Democratic members of the House of Representatives tend to be more critical of unbridled U.S. support of Israel at the expense of Palestinians. Older Democratic House members tend to not be critical of Israel or AIPAC.
Trump had made the Israeli-Palestinian conflict worse last year by moving the U.S. embassy in Israel from Tel Aviv, where it had been located for many decades, to Jerusalem. That had always been a lightening rod issue in this conflict. Israel has always wanted the U.S. to do this. But most former U.S. politicians who have been involved in trying to solve the Israeli-Palestinian conflict–with the U.S. as either sole or only peace broker in this conflict–have always said that moving the U.S. embassy to Jerusalem should only be done as an element in a solution to this conflict. I have always agreed with this. And to even make this situation more worse, President Trump recently announced that the U.S. consulate in Jerusalem would be merged with the relocated U.S. embassy in Jerusalem. That effectively ends all U.S. interaction with the Palestinian Authority. It governs Palestinians living in the West Bank and East Jerusalem because the consulate had been in reality a de facto embassy to Palestinians.
Well, I say the White House is an "anti-Palestinian party."