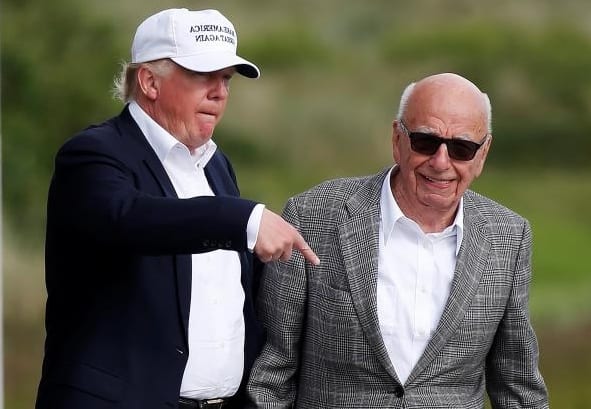 Rupert Murdoch is an 87-year old media mogul born in Australia who created and owns Fox News that has had an enormous influence on U.S. politics. During the 1950s and 1960s, as an Australian citizen Rupert Murdoch amassed a newspaper network in Australia, New Zealand, and the UK. In 1974, he moved to the U.S. to do business here. In 1985, he legally skirted U.S. law by giving up his Australian citizenship and obtaining U.S. citizenship in order to own a U.S. television company.
Rupert Murdoch's holding company is News Corporation. He afterwards acquired several U.S. companies that include Twentieth Century Fox, HarperCollins book publisher, and The Wall Street Journal. The Rupert Murdoch-Wikipedia article says that by 2000, News Corp owned over 800 companies in 50 nations. Ten years later, Murdoch was under investigation for hacking, bribery, and corruption charges by the FBI and the British government. In 2015, Murdoch resigned as CEO of News Corps. It continues to be owned by the Murdoch Family Trust.
Michael Cohen was Donald J. Trump's personal lawyer and "fixit" man for ten years until the Southern District of New York of the U.S. Justice Department raided his home and office last spring due to their investigation of him. Cohen had repeatedly said he would "take a bullet" for Trump since he was so enamored by the man. But faced with serious prison time, he flipped last summer and pleaded guilty to eight crimes. He is scheduled to begin his three-year prison incarceration in two months.
Two of Cohen's crimes he admitted to are for following Donald Trump's instructions in October, 2016–right before the presidential election in November, 2016–to pay $130,000 to porn star Stormy Daniels to keep her quiet about an alleged sexual affair she had in 2006 with Trump. That would be a violation of U.S. election campaign laws. The same thing happened with another woman, Playboy model Karen McDougall, for 120,000. She alleged an eight-month affair with Trump that began about the same time, in 2006. Cohen got Daniels to sign a Non-Disclosure Agreement (NDA). He was involved in the other transaction, too, in which Trump friend David Pecker of AMI that owns the National Enquirer paid McDougall about the same time.
This past week, Michael Cohen testified three consecutive days for 6-8 hours each to three different House committees investigating wrongdoing by President Trump, both as a businessman before he was president and as president. One of these hearings, the one before the House Oversight and Reform Committee, was made public. Therein, Cohen accused Trump of being a "liar," "racist," "conman," and "a cheat." Michael, are you sure you got it all! And Cohen is not through testifying. He is scheduled this week.
Cohen showed this committee copies of two checks for $35,000 each written to Cohen. One was signed by Trump and the other was signed by both Don Trump Jr. and Trump's lifelong accountant and CFO of the Trump Organization, Alan Weisselberg. Both checks were dated 2017, thus while Trump was president. Cohen explained that Weisselberg engineered the plan to pay Cohen in these monthly increments to make it look like a retainer for legal services. Cohen says these two checks were among twelve checks paid to him monthly as reimbursements for his payments to the women.
Today, Jane Mayer reports in the
New Yorker
magazine ("
The Making of the Fox News White House
") about the relationship between President Donald Trump and Fox News. She says that back in October, 2016, only weeks before the presidential election, Fox News reporter Diana Falzone had written an article that contained "proof" about Trump's alleged affair with Stormy Daniels and Cohen paying her to sign the NDA. Her proof was emails about this between Cohen and Daniels' attorney plus speaking about it to Daniels' husband and manager. I'd say that's pretty solid proof. But Fox News didn't think so, at least that's what they say. Executive Kevin LaCorte squashed Falzone's story, telling her plainly that Mr. Murdoch wanted Trump to win the presidency.
This story about Stormy Daniels' affair with Trump finally was made public by the news media in January, 2018, sixteen months after Stormy signed the NDA and one year into the Trump presidency. It eventually was all over the news–newspapers and television–for many days, that is, except on Fox News on television.
Weeks later, in mid-March, 2018, I was at my sister's house visiting her and my mother, to celebrate her 98th birthday. My sister is a Trump fan and watches a lot of Fox News on TV. One day we were watching Fox News in her house. She flipped the channel very briefly to CNN. It had news about Stormy Daniels. When my sister then changed the channel back to Fox News, I asked her to go back to CNN about that story. I told her that it was "big news." She responded by saying it couldn't be big news since Fox News had never reported it. She would know. Thus, my sister presumed that it was just "fake news," that is, not a true report about historical facts.
Jane Mayer further reports today that the New Yorker is investigating the relationship between Fox News and President Donald Trump. She presents details in this piece about how Fox News has had a very significant influence on how President Trump has been governing the country.
For me, this raises a question about a foreigner at age 44 obtaining U.S. citizenship and now having this much influence on the White House. Trump came into focus politically by being a birther–accusing then President Barack Obama of being born in Kenya and therefore not being a natural-born U.S. citizen. U.S. law requires that to be president, you must be a natural-born U.S. citizen. Obama had always claimed he was born in Hawaii. The State of Hawaii eventually made public a facsimile of Obama's birth certificate. It still took Donald Trump quite some time before he backed down and admitted that President Obama was born in the U.S. But what about somebody like Rupert Murdoch exercising such enormous influence on the U.S. president and Murdoch clearly not being a natural-born U.S. citizen? It doesn't seem right to me. What do you think?