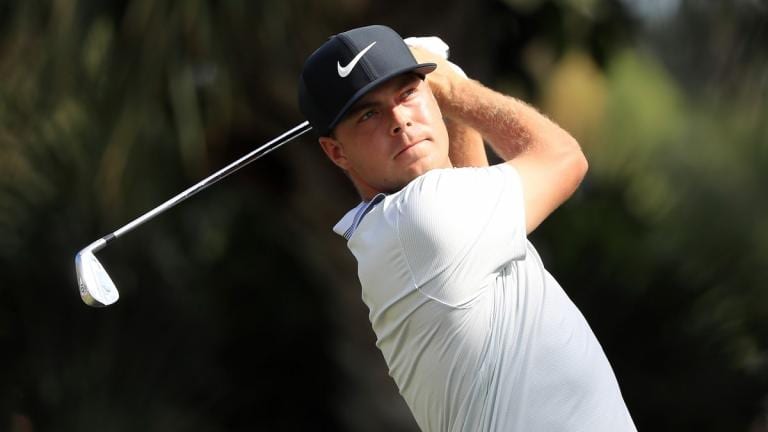 Keith Mitchell overcame a bogie-bogie start today by posting four birdies in his last seven holes to win The Honda Classic at West Palm Beach, Florida, by one stroke over top stars Brooks Koepka and Rickie Fowler for his first win on the PGA Tour. It was a dramatic finish. Koepka and Fowler were in the clubhouse with an eight-under par 276 total. Long-hitting Mitchell needed a birdie on the last hole to win and thereby prevent a three-man, sudden-death playoff which would have aired immediately on TV.
Yesterday, Mitchell had driven absolutely perfectly, 325 yards long, on that reachable par-five 18th hole and hit four-iron to the green to make his birdie. But today, he barely drove left into the sand bunker. He had to lay up safely, for a lengthy wedge shot to the green. He then placed that third shot 15.5 feet from the hole for his birdie try for the win. Even though that putt had about an eight-inch break from left-to-right, which is not the preferred break for right-handed golfers, Mitchell hit a perfect putt at the perfect speed that went right in the middle of the cup for the one-stroke victory.
Fifty-six year old Vijay Singh was in the hunt until he baptized his pellet on the 174-yard par three 17th hole today. He was trying to break legendary Sam Snead's record of being the old player to win on the PGA Tour, which was at 52 years of age in 1965. However, that was the Greater Greensboro Open, next to West Virginia where Snead called home. Sam won that tournament a record seven times.
There was always a rumor, that was well-founded, that if Slammin' Sam ever hit his ball over a green, the crowd would make sure that ball wound up on the green! I used to play in PGA tournaments with Sam, and he was a delight to play golf with. Ben Hogan's wife, Valerie, used to say that there was nobody who could make her "Bennie" laugh more than Sam could. Sam had so many funny stories. He held court in the locker room.
The tournament this week was conducted at PGA National. We used to play the PGA Senior Championship there. I always liked playing that golf course. In one of my last years on the Champions Tour, I was paired the last round with Jack Nicklaus and Tom Watson and beat them both, by one and two strokes, respectively, with us all shooting 71, 72, and 73 in some treacherous wind. However, that didn't happen very much.
This looks like the start of something good for this young fellow Keith Mitchell, who has such a super golf swing and awesome length off the tee that makes me drool.