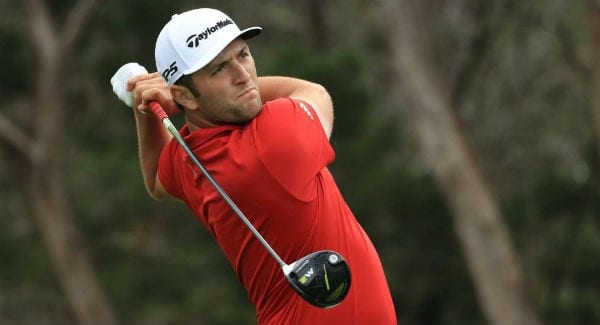 Twenty-four year old Spaniard Jon Rahm–who may be a superstar in the making–leads the PGA Tour's marquee event, The Players Championship at Sawgrass, with one round left to play, tomorrow. After seven holes today, he got on a hot streak and shot an 8-under par 64, one stroke off the course record, for a 15-under par 201 total. Rahm has a one-shot lead over two players: Ireland's Rory McIlroy–a former #1 World Ranking player and a four-time major championship winner–and England's Tommy Fleetwood, a five-time European Tour winner and regular PGA Tour contender, but looking for his first win. Two strokes back of Rahm is Australian Jason Day, also a former #1 World Ranking player and winner of one major–the 2015 PGA Championship.
Rahm said in his TV interview after his round today that he is proud of himself for improving his attitude in golf. Indeed, he has an explosive temper that has been rearing itself lately in PGA Tour televised tournaments. If he can harness it, he may be on his way to a big win tomorrow. Yet, Rory McIlroy seems to have found his game lately after being largely AWOL from the hunt for about the last three years. When Rory is on, there's hardly anyone who can stop him. But it's just about the same with Jason Day, who seems to also being rounding his game into shape.
All four of these leaders–who hail from foreign countries but are regulars on the PGA Tour–are among the top 13 ranked players in the world. Right behind them are several players who are bunched. The golf course is in impeccable shape after earlier rains. The soft fairways slightly favor the longest hitters, which includes Rahm, McIlroy, and Day. It should be an exciting finish tomorrow.