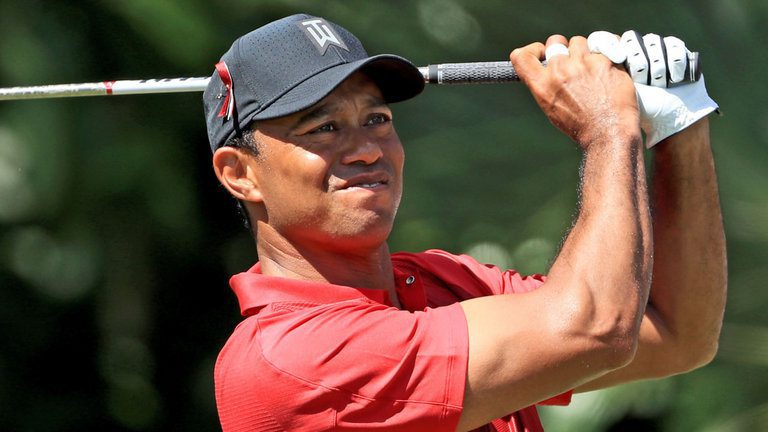 The rain-delayed Masters seemed to cause yesterday's leaders to stall on today's second round. Koepka and de Chambeau had taken the lead yesterday with six-under par 66s. But at the end of the day, today, five players were tied for first at seven under par 137. They are America's Brooks Koepka, Italy's Francesco Molinari, Australia's Adam Scott and Jason Day, and South Africa's Louis Oosthuizen. All of these players are stars who play the PGA Tour regularly and have won major championships.
Right behind them by one stroke at six-under par 138 is a group of four players that include major winners Dustin Johnson and Tiger Woods. Tiger could have been well ahead of the field after these 36 holes if not for a balky putter that failed to sink several putts under six feet. If the 43-year old Tiger can get his putter heated up, Katy bar the door. Nothing would be better for the popularity of professional golf than the winner of 14major championships adding another to his repertoire in his march to try to catch the king of all winners–18 majors champ Jack Nicklaus.
In the TV interview of Tiger after his round today, he was asked about an incident that occurred on the par-four 14th hole. He hit a great, low hook for his second shot from the trees that ended up terrific, on the green, and then he made that birdie putt. But when he hit the shot and started to walk forward, trying to strain to see if the ball had reached the green, a stocky man who may have been a marshal (crowd controller) took a few steps very quickly toward Tiger and slipped on the muddy terrain, falling to the ground. His leg went forward and smacked Tiger's foot. Fortunately, Tiger was pushing off of that foot, so that his heel was up off the ground. That way, the man's foot did not collide with Tiger's ankle. Yet, when it happened, Tiger hobbled forward, obviously in some pain. But by the time he got to the green, it seemed obvious that his foot and ankle were okay.
Tiger answered the question by saying with his big smile and white ivories showing, "I've had four back surgeries and four knee surgeries, so that was nothing. I'm okay." I thought that was a priceless answer.
The rain delay today caused the contestants to have difficulty leaving their putts short of the holes due to the wet greens. When it rains, players have to adjust by thinking to themselves that they must hit the putt just a little harder than what they've been doing. But it can be tough to make that adjustment. Today's round proved it, at least among the leaders. Lots of putts were left short. They needed to remember what Lee Trevino always used to say, "99% of all putts left short never go in." I don't think the SuperMex ever took arithmetic in school.
After 36 holes today, this is about as tight of a spread of great players in the year's first major of the four that you will ever see. It sure makes for an exciting tournament for the spectators and us couch potatoes who watch it on the tube.