Twenty-five year old Viktor Hovland of Norway dominated the PGA Tour's season-ending FedExCup Playoffs by holding on to his lead yesterday, shooting a seven-under par 63 final round to win the Tour Championship at East Lake in Atlanta by five strokes over the charging Xander Schauffele, who shot 62 while playing with the champ. Vikor had won last week's BMW Championship as well to make it a runaway finale. In the victory presentation afterwards, Hovland said, "I played basically my best golf the last two weeks and it couldn't have happened at a better moment."
Indeed. Hovland had been playing outstanding golf all season. But he often struggled on the weekends to register some disappointing finishes. Now, that appears to be a thing of the past for Viktor the victor, known for his infectious smile and dogged determination. He won last week's BMW Championship with a 61 the last round.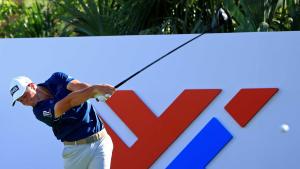 There are two most notable aspects of Viktor Hovland's golf swing that cause me to think of Arnold Palmer's golf swing.
First, Hovland grips the golf club very firmly as did Palmer. This is so noticeable in Viktor's pre-shot, swing routine.
The second aspect is that at the top of Hovland's backswing, he has the clubface in a closed position as Arnold Palmer did. This enables, in fact requires, Viktor to make his forward swing so that he has an exaggerated extension of his arms and club right after he hits the ball, with his club aiming at his target in his upswing. This very extended position of Viktor's golf club early in his upswing usually results in more accuracy in especially his long shots. Indeed, Hovland was #1 this week in driving accuracy even though he is a fairly long hitter. That was what made Arnold Palmer stand out from the rest of us Tour pros for many years.
Scottie Scheffler, the #1 golfer in the world and a member of the PGA Tour Bible Study group, had started the Tour Championship last week in the #1 position with the Tour's complicated Stableford scoring system. He finished the tournamet in a disappointing 6th place. Scottie was the best ball striker of this season, but he was one of the worst putters. Yet last year he was one of the best putters on Tour, making so many clutch putts. Such is the game of golf–that elusive touch with the short stick is easy come, easy go!
The biennial Ryder Cup is next, beginning on September 29th in Rome, Italy. This greatest of all team competitions in pro golf is waged between the Americans and the Europeans. The U.S. used to dominate it. But in recent decades, the two teams have been quite evenly matched. However, the U.S. has not won on European soil for about thirty years. The Europeans get really emotional about that, so they will be super excited to try to defend their home turf.
The American Ryder Cup team, organized by the PGA of America, consists of twelve players. The first six make the team automatically according to a selection system involving the year's PGA Tour tournament schedule. The next six players are chosen by the team captain, Zach Johnson. He is in a difficult position of having to decide whether to choose five-time major championship winner Brooks Koepka. The reason is that Koepka departed the PGA Tour to join the renegade upstart LIV Golf. About 17 PGA Tour players did that, and it caused much animosity among the membership. Scottie Scheffler is one of the American pros calling for Johnson to choose Koepka.
There still is not much update on progress involving the agreement between the PGA Tour and Saudi Arabia's Public Investment Fund (PIF), which has sponsored LIV Golf. You may recall that LIV Golf and the PGA Tour had lawsuits against each other. Then, PGA Tour Commissioner Jay Monahan and two PGA Tour Policy Independent Directors, who are Wall Street guys, entered into private negotiations with PIF without informing the PGA Tour membership.
Monahan then announced the two entities had agreed to drop their lawsuits against each other and enter into a business relationship in which PIF would be a huge sponsor of the PGA Tour, with LIV Golf continuing. Monahan announced the deal several weeks ago. But it was not well received by the PGA Tour members. Monahan then went into seclusion, reportedly experiencing severe depression. He was back at his job last week at East Lake, but he is under scrutiny. So, it remains to be seen if the majority of the Tour membership want Monahan to continue as commissioner.
The PGA Tour membership unanimously called for aging superstar Tiger Woods to become a member of the Policy Board. Tiger gladly accepted so that he is now one of eleven members. Four members are Independent Directors, usually people from the U.S. business community, and the other six are PGA Tour players. The board has one other member, the president of the PGA of America, but he does not have a vote. So, the Tour players now have even more of a majority vote on the board that they did have. The membership is calling for more transparency.
Tiger Woods, who is compared to Jack Nicklaus as the greatest golfer ever, was known for not being transparent about his career, especially his personal life. But Tiger Woods seems to me to be a better person now. At any rate, I think Tiger Woods on the PGA Tour Policy Board will be good for the Tour and good for the game of golf.