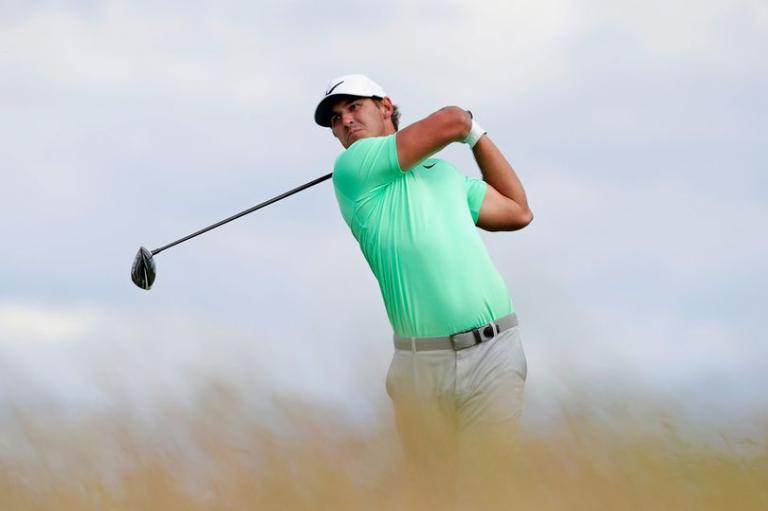 Brooks Koepka shot an even par 70 today in the third round of the PGA Championship at Bethpage Black Course to keep his seven stroke lead with 12-under par garnered the first two rounds. The only difference is the players who are tied for second at 5-under par: Harold Varner III, Jazz Janewattananond, Luke List, and Dustin Johnson. Jordan Spieth and Adam Scott both shot 72 to fall back to a tie for 8th at 3-under par.
The course played a little tougher today with the wind kicking up some. Koepka has been solid when he has the lead, and adverse conditions don't seem to bother him as much as others.I
If Brooks Koepka wins tomorrow, it will be his second consecutive PGA Championship win and four wins in majors in the last eight in which he has competed. He maintained his quest today to set amazing records in the four major tournaments. It just confirms what he has been saying, that he is naturally a major tournament player. He is so cool, calm, and collected no mater if he is setting the course record or if things aren't going his way for a while. He seems untouchable.
Koepka plays majors like it's an average day in the park. He goes through the motions and rarely shows any emotion. Today, we got a smile from him when he made about a 15-20 foot putt to save par. He wasn't in the fairway that much today, but it didn't seem to matter. It looks like he's about to capture his fourth major tomorrow. I doubt an earthquake could distract The Muscleman.
Who is Jazz Janewattananond you say? He is from Thailand and has been playing pro golf around the world since 2010, when he turned pro at 15, yes fifteen, years of age. In 2016, he took two weeks off from golf to be a Buddhist monk. He credits his 2017 Asian Tour win at the Bangladesh Open with his meditation and relaxation methods learned during those previous two weeks. He has not yet gained status to compete regularly on the PGA Tour.
Jazz's real first name is Atiwit. He decided to substitute his nickname for it. His dad had given him the nickname "jazz" because his dad liked jazz music. Atitwit is playing Bethpage Black this week with some pretty jazzy music, scoring a 67 today.