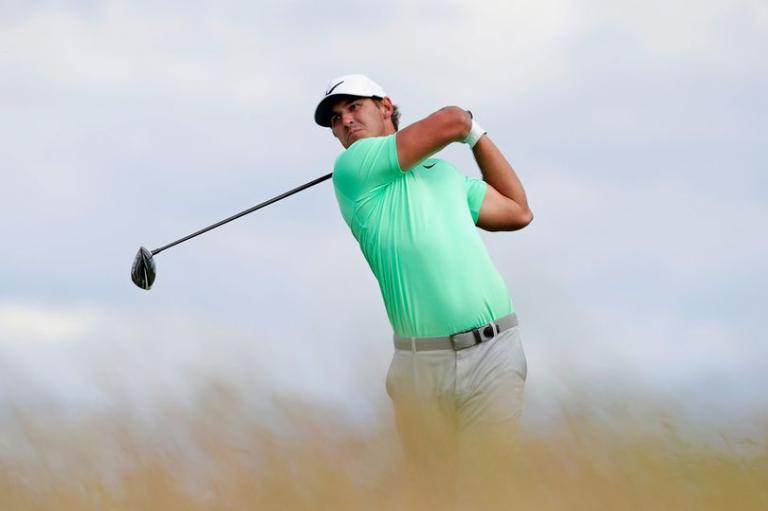 Muscleman Brooks Koepka is setting golf history. He is about to tee off right now for the third round of the 101st PGA Championship. It is the second of four major professional golf tournaments in the world this year. Koepka has a seven stroke lead after the first two days of play. He had a 63 Thursday, which was the course record, and a 65 Friday for a 36-hole total of 128, which is 12-under par. That 128 in itself is a record score in any major championship ever after two rounds.
Not only that, Koepka was playing with Tiger Woods. He won the Masters last month in a terrific comeback. It was Tiger's 15th major championship win. He is trying to catch Jack Nicklaus, who has won the most with 18 majors. Plus, one of Tiger's major wins was the U.S. Open where they are playing this week–Bethpage State Park (Black Course) in Farmington, New York. Woods missed the 36-hole cut by only one stroke.
Two players are tied for second, seven shots back at 5-under par: Jordan Spieth and Adam Scott, both major winners.
Koepka has won three majors in the last three years. Now, he has a huge chance to get his fourth major in just a short period of time. Brooks says, just matter-of-factly, that he is a major player. He means that he just naturally excels in majors. The main reason he says that is that they are always on the toughest golf courses. So, he thinks he has a better chance of winning on them. Hardly anyone argues with him about that.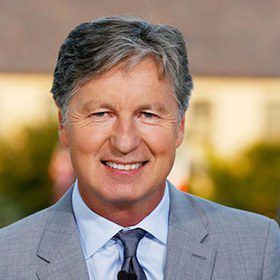 I say hardly for a reason. Brandel Chamblee is a friend of mine and one of the TV commentators for golf tournaments on the Golf Channel. Brandel played on the PGA Tour for some years. He is the most articulate of the TV commentators who are former PGA Tour players. And he has a knack for remembering pro golf history.
This week, Brandel said on TV that Rory McIlroy, a four-time major winner, and Dustin Johnson, who has occupied the #1 position in World Rankings the most in recent years, have a better chance of winning majors than Brooks Koepka does. He also said they are better players. Brandel was saying that to the other commentators who are former PGA Tour players as well. I have a lot of respect for Brandel Chamblee and his knowledge of golf. But when I heard Brandel say that, I thought he had just stuck his foot in his mouth and that he could live to regret that. Brooks Koepka is proving Brandel wrong right now.
Brandel Chamblee said that because he was going by some statistics, and he wasn't wrong about that. Koepka does not drive the ball as straight as McIlroy and Johnson have. So, Chamblee was arguing that on a really narrow golf course with thick rough, Brooks Koepka is not as good as other players. Well, that is debatable.
In my day, Arnold Palmer and Gary Player used to argue privately that Jack Nicklaus was long off the tee but kind of crooked. They believed that they had a better chance at winning certain major championships than Jack did when the golf course had very narrow fairways with deep rough. But here's what happened: Jack would be digging his ball out of the rough with a nine to the green while Gary had been back there in the fairway hitting his four iron to the green. Which do you think is easier to do? Jack proved that his way was the right way. The only think Gary could then argue was the tournament officials and greenskeeper had not gotten the rough to grow high enough.
I don't think Brooks Koepka can make that argument. Rory McIlroy and Dustin Johnson can hit it just as far as Koepka can. All three are among the longest hitters on the PGA Tour.
If Koepka keeps shooting in the mid-60s this weekend, he will prove Brandel Chamblee wrong and continue to make golfing history. But Brandel is changing his tune a little now. He is comparing Koepka to Babe Ruth and Muhammed Ali. I'd say that's stepping it up, Brandel! Good thinking in trying to wiggle your way out of that foot-in-the-mouth!