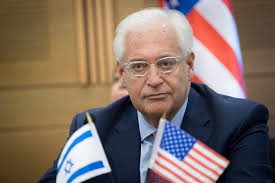 David Friedman, the U.S. ambassador to Israel, said two days ago that Israel has a right to annex Jewish settlements in the West Bank. He said specifically, "Under certain circumstances, I think Israel has a right to retain some, but unlikely all, of the West Bank." Not according to international law. The UN has many resolutions that declare otherwise.
Friedman and envoy Jason Greenblatt have been working with Jared Kushner, President Trump's son-in-law, in preparing a peace plan for Israelis and Palestinians that involves big financial contributions of Arab nations such as Saudi Arabia to Palestinians. They are scheduled to present this plan at a conference later this month in Bahrain. The Palestinian Authority is boycotting this conference and telling government leaders and business folk that they should not attend it because it will represent a financial bribe and forestalling of a geopolitical, final solution to the Israeli-Palestinian conflict.
David Friedman has serious conflicts of interest in trying to solve the Israeli-Palestinian conflict. First, he is an Orthodox Jews. Second, for many years he has been an activist in calling for Israel to unilaterally annex all Jewish settlements in the West Bank. Third, as an American lawyer he has for decades been Donald Trump's bankruptcy lawyer.
This Friedman statement about Israel annexing part of the West Bank seems to be intended as coming from President Trump himself. It would be a serious departure from the long-standing position of the U.S., which is that Israel does not have a right to annex West Bank territory and that any such move would have to be part of a comprehensive peace settlement between Israel and at least the Palestinian Authority. But Trump has already gone against previous U.S. policy by moving the U.S. embassy to Israel from Tel Aviv to Jerusalem and announcing U.S. approval of past Israeli annexation of the Golan Heights.
Israeli Prime Minister Benjamin Netanyahu campaigned for reelection this year by making a new claim that he would seek to annex Jewish settlements in the West Bank. That would be in defiance of international law, meaning the many UN resolutions, many of which have been passed by the UN Security Council. Netanyahu won the election. President Trump had broken another norm of U.S. past policy by publicly endorsing Netanyahu for election.
But Netanyahu failed within the 60-day requirement to form a coalition government. It must be at least 61 (a majority) of the 120 votes in Israeli's Knesset (Parliament). So, this requires another election to replace the earlier one, and it is scheduled for this fall. So, Netanyahu still cannot make good on his promise to unilaterally annex West Bank territory. He must win an election again and form an acceptable coalition government. Historically, that means he has to accept some of the more conservatively religious parties into his coalition. They definitely want the West Bank annexed. So, this development is looking more and more as though Israel eventually will unilaterally annex Jewish settlements in the West Bank.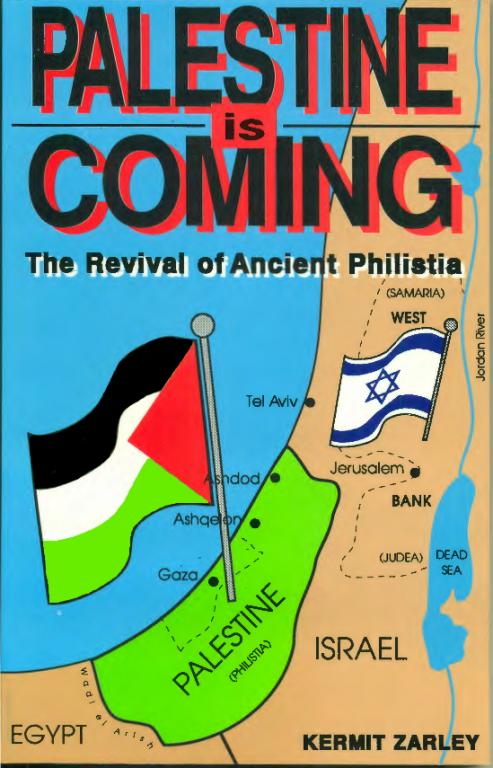 In 2001, I was in Washington, DC, and met with Judith Kipper, a Middle East analyst with the Council on Foreign Relations at that time. For nearly thirty minutes, we discussed my proposal of an alternative two-state solution to the Israeli-Palestinian conflict. I had written a book on this, published in 1990, entitled Palestine Is Coming: The Revival of Ancient Philistia.
In this book I propose that Israel do a land swap, forfeiting all of its coastal plain territory south of Tel Aviv to Gaza to the Palestinians in which they would form their own state, and Israel would annex all of the West Bank. This proposal is based on historical precedent, which Israel actually declares in its Proclamation of Independence. That is, Jews therein claim a right to their "ancestral land."
But they didn't actually get all of the their ancestral land (not to be confused with the Promised Land); they only got part of it. My proposal is that they get all of their ancestral land, which does not include the coastal plain south of Tel Aviv. That was "the land of the Philistines." So, I'm saying let the Palestinians have "the land of the Philistines" in which to establish their own state, and let Jews have all of their ancestral land, which includes all of the West Bank that they call "Judea and Samaria," referring to historical precedent.
So, my two-state proposal for solving this decades-old conflict obviously requires a transfer of peoples. That is, Jews would transfer out of the coastal plain into the West Bank, and Palestinian would transfer out of the West Bank into the coastal plain.
I tell about this conversation that I had with Ms. Kipper on my website kermitzarley.com. It is in the section "On Palestine" and entitled "Time Changes Things." It goes like this:
"After I briefly presented my proposal to Ms. Kipper, she replied, 'You can't tell the Palestinians to get out of the West Bank.' She explained that many of them claimed a 'historical connection to that land dating back thousands of years.' Of course, since I had written a book about this, I knew quite well what she was talking about. I asked her if she knew if the solution I was suggesting had ever been proposed. She answered, 'No.' My final remark in support of my proposal was, 'what if the Palestinians living in the West Bank were offered a better deal than they have there?' Ms. Kipper only shrugged. What could you say? It hadn't happened yet. My point was that time changes things."
Indeed, I now need to add some recent information to that article. Just about all West Bank Palestinians say the two-state solution is dead. They mean the traditional two-state solution, which is that the Palestinian state would be established in the two separated territories of the Gaza Strip and the West Bank or a portion of it. Because it is dead, many Palestinians now are wanting out of the West Bank. They are even saying that if Israel gave each one of them something like $5,000, they would move out of the West Bank.
So, developments continue to happen which are advancing toward my proposal. Not only is it based on historical precedent, even affirming Israel's Proclamation of Independence, it is based on my interpretations of ten biblical prophecies in the Jewish Bible. In fact, that is the main thrust of the book. I'm saying that people need to get on with it–it's in the Bible and therefore it's going to happen: Israel and Palestine lying beautifully side-by-side, not this carving up the West Bank to look like a piece of Swiss cheese.