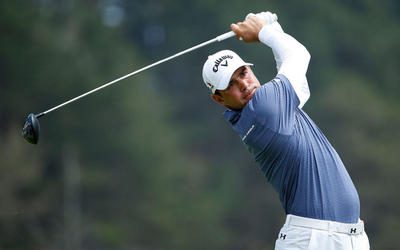 Thirty-five year old Gary Woodland–a three time winner on the PGA Tour, but without a major–won the U.S. Open just now by three strokes over defending champion Brooks Koepka with a 13-under par 271 total. He started the day at 11 under par for 54 holes with a one stroke lead over 2013 U.S. Open winner Justin Rose.
Most armchair quarterbacks probably thought Rose had the best the chance to win. But he survived that far only leaning on his putter, with his GIR game having gone south.
The sensational Brooks Koepka starting from four strokes back and got hot as a firecracker, threatening Woodland. Koepka one putted the first five holes, with four of them for birdies. Yet Woodland stood his ground and never relinquished the lead. But it wasn't easy for any of the leaders today.
The 8th through the 13th or 14th holes at Pebble Beach are real tough holes. You expect to go under par the first seven holes. After that, it's hang on, hold your breath (for amateurs), and just survive until you get past the 13th or 14th. No one hung on very well, but Gary did as good as any. And then there was his shot on the 14th.
The 14th hole at Pebble Beach Golf Links is a dogleg right par five. Rarely does a good player ever drive far enough to even go for that green in two shots. And to do so you really incur a huge risk. An aerial view of the green looks like two round dots stuck side-by-side, with the one on the right nearer than the one on the left, and the latter is elevated about three feet higher than the other, with a sharp slope joining them. Then there is that pesky sand bunker guarding the entrance to the left dot part of the green that looks like the wide open mouth of a big sea monster in the nearby Pacific blue.
Today, the pin was stuck on the front side of that left dot part of the green on the 14th hole, right over that yawning bunker. And after your drive, it is uphill to the green. Gary drove long and good. So, he could reach the green. But he was leading the greatest golf tournament in America by one or two strokes at the time, with only five holes to play. Almost everybody in his right mind would have chosen to hit an easy lay-up iron shot short of the green, leaving a wedge for your third shot.
But not Gary Woodland. Yet, he had never been in this position before, and never won a major. Gary hit the most perfect 3 metalwood right at the pin. The ball cleared the bunker by a few feet and hit in the perfect place, in rough just short of the green. That allowed the ball not to go forward very far. The ball rolled just off the green to the left with a pretty simple chip. Gary made a birdie four. That gave him some more cushion going forward. He said in an interview afterwards that that's why he decided to try the heroic act–he wanted that cushion with five to play.
Another great play by Gary Woodland was on the long par three 17th hole. He bailed out with his iron, which was a fairly poor shot. His ball settled barely on the right edge of the green. The hole was way over on the left edge of the green. That 17th green is designed like the figure 8, thus sort of two dots again stuck together, with a hump on the green in between them on the backside. Gary had a putt of about 90 feet, and he had to negotiate that hump. He did not use his putter. Instead, he used what must have been one of his wedges. He hit such a great pitch, landing just over the top of that humpy ridge, without even making a divot in the green. The ball almost went in the hole. Gary had a gimme for his par.
As Gary Woodland walked to 18th tee, here was the situation. Koepka, who was playing about two groups in front of Woodland, teed off on the 18th in second place, two strokes behind Woodland. The rest of the field was now too distant from the these two to have any prayer to win this tournament.
Koepka drove long and perfect on the par five 18th. He hit some kind of driving 3 iron 250 yards that landed on the green, ten feet from the hole. The hole was tucked close to the left side of the green. There is a little narrow sand banker over there, and to the left of that its rocks and big blue. So, going for the green on the 18th at Pebble is scary stuff. But not if you're Brooks Koepka. He said in the interview, later, that he was trying to hit that shot higher, so that it would land more softly and not go forward much. But even though it looked like such a terrific shot, it did bounce and roll just over the green, barely into rough. Now he had about a forty-foot shot or more.
Player commentator Curtis Strange–a two time U.S. Open himself–said Woodland's lie in that rough for his third shot wasn't very good. I thought the camera view showed that it was quite good since it was pretty heavy rough and his ball was kind off on top of it.
Koepka hits down on the ball a lot on all of his iron shots, even his chips. This means his club head is descending on the ball a lot at impact. With that lie, I'd recommend not doing that. When you hit down on the ball a lot with little chip shots, you increase your risk of not hitting the ball in the center of gravity of the club head, meaning hitting a solid shot. Koepka played his normal stroke on that chip shot, and his club contacted the ball way high on the club face. When you do that, the shot will be short of your target. That's what happened–the camera shot showed that Koepka hit down too much and caught the ball way high on the club face. The result was that he had a ten foot putt short of the hole even though that was a downhill chip shot.
Koepka then made a pretty good putting stroke. But he didn't quite hit the ball hard enough. The ball curved right and barely missed the hole. If he would have made that putt, Woodland then needed to get up-and-down on that 90-foot putt on the 17th hole and then par the 18th hole to beat Koepka by one stroke to win the tournament.
But instead, Woodland now walked to the 18th tee with a two-shot lead over Koepka. This guy had won the last two U.S. Opens and was trying to make super, unprecedented golfing history in the 115 years by winning three U.S. Opens in a row.
Woodland did the smart thing and chose to hit a medium iron off the 18th tee to play safe. With big blue's waves crashing on the left, and sand bunkers and OB to the right, it was the only sane thing to do with a two-stroke lead to win America's greatest golf tournament.
Gary Woodland then hit a perfect iron shot safely onto the right side of the fairway, and another perfect iron shot in the fairway, leaving himself a wedge or 9-iron third shot to the green. He played that smart, too, with the ball settling in about the middle of the green, leaving him a thirty-foot putt for a birdie. All he had to do was three-putt to win the U.S. Open by one stroke. Instead, he capped the win off in style by sinking that thirty footer to win by three strokes and tie Tiger Woods' record score of 271. It was Gary Woodland's fourth win on the PGA Tour and his first major championship win.
As for Koepka, and regarding the last three of the four majors, with one to go next month–the British Open–he has won one and finished second the other two times. Brooks Koepka has been playing some awesome golf in the majors.
As for the Tiger, he finished one under par 283. That is respectable but far from his expectations. Incidentally, have you noticed that Tiger has made another swing change lately? He is swinging in such a manner that his club head is moving more slowly when he gets near the end of his follow through. It's what I'd call a "softer swing" on his follow through. It also results in him cutting off his swing finish, but not doing it violently or abruptly. I believe he's doing that purposely because he's been experiencing some serious neck pain lately. It caused him to pull out of one tournament this year. He's also wearing KT Tape on the back of the neck, which the media often mentions.
What is KT Tape. I've some bought months ago and still haven't tried it. You can see on television players in pro golf and other sports wearing KT Tape, and some are advertising it now. It is supposed to help reduce inflammation.
I'm going to admit something: I'm glad Johnny Miller finally retired recently from his television commenting of PGA Tour tournaments. John developed a style of being pretty critical of players, with an emphasis on choking under pressure. It is obvious that the executives of that TV network encouraged him to do that. I have been opposed to that Miller style for many, many years, even going back to when he interviewed me at the Senior U.S. Open when I had the sole lead after 36 holes. John constantly spoke of the possibility of some player choking under the pressure when in the hunt. Sure, there is certain segment of clientele that watch sporting events who like that type of commentary. But I think it builds a negative culture that is not good for sports or life.
I was so glad to see and listen to Paul Azinger this week as the lead play-commentator for Fox Sports, who had lead coverage. PGA champ Paul Azinger is one of the greatest guys you could ever meet. They don't come any better. I've known Paul since he first started the PGA Tour. Back in those days, he drove his family in a motorhome from tournament to tournament. This weekend, Paul Azinger mentioned multiple times that under pressure, pro golfers big tournaments sometimes seize the moment and do heroic things. That's positive commentating. Constantly talking negatively about it gives the impression that that's what you want the person to do–to screw up. Not good. I wonder if Azinger, in talking like that, has had Miller in mind. I think so.
Another retired PGA Tour player who I think does a terrific job at TV commentating, like Paul does and is also a PGA champ (defeating Gene Littler in a playoff at Pebble Beach), is Lanny Watkins. He is now working in the towers at Champions Tour events. My hat goes off to both of those guys, Paul Azinger and Lanny Watkins, for their excellent television coverage of our pro golf tournaments.
And hats off to Gary Woodland as the new, reigning U.S. Open champion. He held his ground and didn't falter hardly at all in the clutch even though he previously had led seven PGA Tour tournaments with the 54 hole lead, and never won any of them.