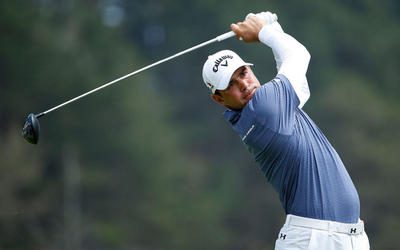 The U.S. Open is being played this week at my favorite golf course–the beautiful Pebble Beach Golf Links nestled along the Pacific Ocean at Monterey Peninsula, California. Gary Woodlands, who has never won one of the four major championships in golf (Masters, PGA, U.S. Open, British Open), has a one stroke lead over 2013 U.S. Open winner Justin Rose. Here are the leaders with one round left to play, tomorrow:
Gary Woodland -11 under par 202
Justin Rose at -10
Louis Oosthuizen at -7
Brooks Koepka at -7
Chez Reavie at -7
Rory McIlroy alone at -6
It makes a difference if a player has been in this position before and won a major due to the extra tension of trying to win a major. Oosthuizen is the 2010 British Open champ, and McIlroy has won four majors. Reavie has not won a major, yet he is no doubt the best putter of this lot.
However, Justin Rose has improved his putting considerably since he change to the claw grip. He has had astounding putting numbers this week: 22 putts Thursday, and 23 putts yesterday, with 27 in between. In my entire pro golf career of playing nearly 700 (I think) PGA Tour tournaments, the lowest number of putts I have had in one day in tournament play was 23, and I only did that once.
Gary Woodlands and Brooks Koepka are the two most athletic guys in this group of leaders. Gary would certainly be a deserving champion if he wins, since he has an outstanding game. But Brooks Koepka is the guy who could make golf history like nobody ever has in the past hundred years if he could win tomorrow and thus win three U.S. Opens in succession. What would make that so special is that U.S. Open golf courses are the toughest to play, and the field is larger than any other. Plus, the qualifying system for U.S. Opens is so rigorous and thus unlike any other tournament in golf.
A record surely must have been set today in all of professional golf for shanking by the two leaders in a major. On the 185-yard par-3 5th hole, Justin Rose had a simple greenside bunker shot of only about 25-30 feet in length. It did not seem to be a difficult shot. And he had a perfect lie and stance. But I noticed that he opened the face of his sand club a lot, and then he cold shanked the ball at least at a 45 degree angle. Then there was Gary Woodland about 1.5 hours later on the 215-yard par-3 12th hole. He hit what looked like a really good shot, but it didn't carry far enough and landed right beside the front sand bunker and stayed there in the rough. He had to stand in the bunker with the ball almost waist high. So, he was swinging almost like he was hitting a baseball. He also cold shanked the ball 45 degrees right or more. At least he had somewhat of an excuse, but Justin Rose sure didn't.
The reason this might be a record is that pro golfers can play an entire career on the PGA Tour, and never shank a ball. In my entire PGA Tour career of 30 years fulltime and about five years parttime on the regular Tour and the Senior/Champions Tour, I never shanked a ball.
I'd say Justin Rose probably has the best chance of winning tomorrow, especially when you consider how good he is putting. Day-in-and-day-out on the PGA Tour on demanding golf courses, Justin Rose has been about the best ball striker in the past several years. So, if he gets his game going from tee-to-green, he will be awfully hard to beat. Yet, Gary Woodland has hung there really well. He seems to be like Koepka–that the pressure doesn't bother him. Plays cool as a cucumber.
My choice to win tomorrow is Louis Oosthuizen. He has, hands down, the best swing in pro golf. And I think he has the most GIR (greens in regulation) so far this week. He also is such a calm guy, a very matter-of-fact guy in media interviews.
But if Cupcake (that's what I call Brooks Koepka) wins tomorrow, it would be one of the most astounding achievements ever in professional golf. He's sure got the game to do it.