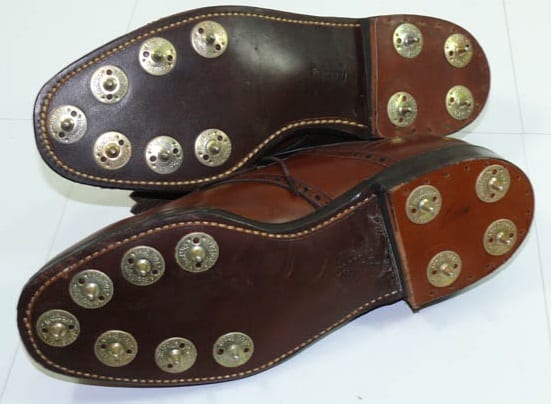 I wrote a blog post yesterday about tapping down spike marks. A reader pointed out my error. I now stand corrected about it and embarrassed.
A year ago, I read articles about the new rules changes that were going to go into effect for the 2019 season. I am now surprised that I didn't see anything about the new rule change regarding spike marks. The new Rule 13.1, c, 2 reads, "Repair of Damage. A player may repair damage on the putting green without penalty by taking reasonable actions to restore the putting green as nearly as possible to its original condition." It further explains, "'Damage on the putting green' means any damage caused by a person or outside influence, such as: Ball marks, shoe damage (spike marks)," etc.
That is a big change in the rules of golf. I'm surprised that the articles I read said nothing about it or else I somehow missed it. If I still played golf (which I can't do now), I would have known this change.
I wished we would have had this new rule when I was leading the U.S. Open at Pebble Beach during the last round in 1972, which Jack Nicklaus eventually won. I've blogged about this before. I was leading by one stroke over Jack when I putted on the little par-three seventh hole. I had an 18-inch, second putt with a huge, pulled-up, spike mark in my line. My ball hit that spike mark and knocked the ball off-line so much that the ball didn't even touch the rim of the cup on its way by. It unnerved me considerably.
Jack Nicklaus was standing on the seventh tee in the last group, watching as I finished the hole. As my playing partner Bruce Crampton and I then exited the green, two U.S.G.A. officials came onto the green, removed the flagstick, and waved to Jack and his playing partner (I forget who he was) to wait. These two officials then bent down all around the cup for about six feet and smoothed out the surface of the green. PGA Tour rules officials would have never done that.
But then, U.S.G.A. officials usually are not pros at that job. They obviously did that because they could see that I had a huge spike mark in my line and that that is why I missed the putt. Of course, after I missed the putt and finished the hole, I tapped that spike mark down. But those officials obviously thought nothing of the ethics of the matter in providing the remainder of the field with a smooth putting surface when they didn't do that for me.
I then had a six foot birdie putt on the next hole, the eighth, and three-putted again. An 8 on the 14th and I finished the tournament in sixth place, six back of Jack.
It's one of those things in my life that sticks in my craw. Now, I guess this rules change makes it worse. Why did rules officials change this rule when it had not been permitted to repair spike marks before play for the entire history of the game until now?
But before answering that question, we need to ask, why did rules officials never allow repairing spike marks? Spike marks were always an unfair thing in golf. The answer is that rules officials always said allowing the repair of spike marks would cause a lot of slow play in golf. I always kind of doubted that.
Apparently, this new change has mostly to do with the change in golf shoes. During modern times, golfers have worn specially-made shoes to play golf called "golf shoes." Metal spikes were invented in the 1910s and attached to the soles of these shoes. They helped golfers secure footing to the ground when they took a mighty wallop at the ball.
Then, along came soft spikes, made of plastic or rubber, in the 1990s. Touring pros even started using them. Later came soles with variations that also helped the golfer grip the turf. Athletic shoe companies, such as Nike, had contracts with Tour players that caused them to wear such shoes.
These changes resulted in much less damage being done to the surface of the greens. That must have invited rules officials to consider changing the rules about so-called "spike marks."