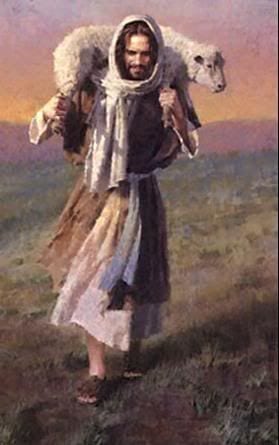 Christmas good ole' jolly season of Christmas will soon be upon us. People are putting up a Christmas tree in their living rooms, putting out their Christmas tree lights, and, of course, doing all that Christmas shopping. But what is this Christmas business really supposed to be about? In one word–JESUS.
Christmas is about the birth of Jesus and believing he is the Christ, the Messiah of Israel. Surprisingly, it is the Gentiles mostly who have believed this. The Jews have not, at least not very many of them. Yet Jesus was a Jew. And Jesus clearly has been the most famous person to ever walk this planet. Yet, why was Jesus born? And how could he have become so famous in such a short period of time, since he apparently died at only about 33 years of age? And why did he die such a horrendous death, it being by crucifixion?
To learn the answers to these questions, every human being on the face of this planet should do himself or herself a favor and read in the Old Testament of the Bible the special text of Isaiah 52.13–53.12. It is a narrative that seems to be prophetic about someone whom Yahweh God calls "my servant." As a Christian, I believe it refers to Jesus of Nazareth. He lived seven plus centuries after the book of Isaiah was written.
Isaiah writes much about this righteous servant of Yahweh which he relates prior to Isaiah 52.13–53.12. Some of it is mixed with narrative about sinful Israel also being Yahweh's "servant."
Isaiah begins the entire section about Yahweh's "servant," in Isaiah 42–53, by exclaiming on behalf of Yahweh himself, "Here is my servant, whom I uphold, my chosen, in whom my soul delights" (Isa 42.1 NRSV). Most New Testament scholars believe this text alludes to Jesus' baptism of which we read, "just as he came up from the water, suddenly the heavens were opened to him and he saw the Spirit of God descending like a dove and alighting on him. And a voice from heaven said, 'This is my Son, the Beloved, with whom I am well pleased'" (Matthew 3.16-17).
Isaiah begins the special section of Isaiah 52.13–53.12 by saying on behalf of Yahweh God, "See, my servant shall prosper, he shall be exalted and lifted up, and shall be very high" (Isa 52.13). This is a prediction of Jesus' exaltation following his heavenly ascension forty days after his resurrection (cf. Acts 1.9-11).
The Isaiah 52.13–53.12 text then backtracks prophetically in time, relating how Yahweh's righteous servant would undergo intense suffering and death. Isaiah says this servant "had no form or majesty that we should look at him, nothing in his appearance that we should desire him" (Isa 53.2).
What a contrast to what we would look for in a man to be our king. We want good looks and height and so forth. Israel had done that very thing when it chose its first king–Saul. We read in the Bible that his father "Aphiah" was "a Benjamite, a man of wealth. He had a son whose same was Saul, a handsome young man. There was not a man among the people of Israel more handsome than he; he stood head and shoulders above everyone else" (1 Samuel 9.1–2).
Isaiah says Yahweh's righteous servant "was despised and rejected by others; a man of suffering and acquainted with infirmity; and as one from whom others hide their faces he was despised, and we held him of no account" (Isa 53.3).
Isaiah continues, "Surely he has borne our infirmities and carried our diseases; yet we accounted him stricken, struck down by God, and afflicted. But he was wounded for our transgressions, crushed for our iniquities, upon him was the punishment that made us whole, and by his bruises we are healed. All we like sheep have gone astray; we have all turned to our own way, and the LORD has laid on him the iniquity of us all" (Isa 53.4-6). Isaiah predicts that all of this would be due to "a perversion of justice" after which this righteous one "was taken away" (Isa 53.8).
That is exactly what happened to Jesus. He was arrested, condemned as a blasphemer, crucified, and died on the cross, all without cause. The four gospels of the New Testament tell all about. And this is a solid confirmation of what Isaiah predicted about Yahweh's righteous and suffering servant in Isaiah 53. The following texts are only from one of those gospels, the Gospel of Matthew:
Pilate "realized that it was out of jealousy that they [Sanhedrin members] had handed him [Jesus] over" to Pilate (Matt. 27.18).
"Now the chief priests and the elders persuaded the crowds to ask for Barabbas [to be freed] and to have Jesus killed" (Matt. 27.20).
"So when Pilate saw that he could nothing, but rather than a riot was beginning," he said, "I am innocent of this man's blood" (Matt. 27.24).
"Then the [Jewish] people as a whole answered, 'His blood be on us and on our children'" (Matt. 27.25).
"and after flogging Jesus, he [Pilate] handed him [Jesus] over to be crucified" (Matt. 27.26).
If Isaiah did prophesy these things about Jesus, as I believe, then every human being should ponder these things, especially how Jesus died for each one of us and that it is up to us to do something about it if we care about the destiny of our souls. That is, JESUS DIED FOR ME, and I need to truly BELIEVE IN HIM as my Savior and Lord.