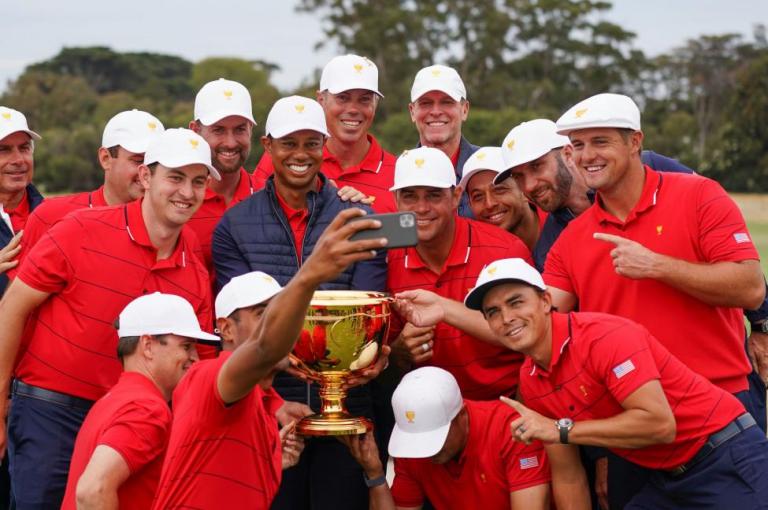 Team USA dug a deep hole way down under on day one, Thursday, only to escape it on day four, today, to defeat the International Team and win the 13th Presidents Cup in Melbourne, Australia, with a score of 16-14. It was quite a comeback for the Americans.
The International Team was ahead 4 to 1 the first day. The second day was going worse for the USA until both Patrick Cantlay–surely a superstar in the making–and Justin Thomas–arguably already such–holed fifteen-foot birdie putts on the 18th hole only minutes apart to win their matches 1-up. That was huge! Thomas and team captain Tiger Woods–who live near each other in Palm Beach, Florida, and have become close friends–displayed extreme emotion as they rejoiced and hugged each other on the green.
The first three rounds of the Presidents Cup consist of foursomes and four ball matches. The fourth and final round is all about 12 singles matches. After the third round, the score stood at International Team with 10 points and the USA Team with 8 points. To win the event, a team must win at least 15 and 1/2 points.
The USA has a history of outdoing Team International in singles matches in this event, and this history duplicated itself today. Patrick Reed–the 2018 Masters champion and controversial figure due especially to accusations of cheating–got off to a hot start today in the first match with six birdies the first seven holes to go 6-up and easily defeat C. T. Pan. That seemed to rally the Americans playing behind Reed as only one of the twelve lost his match.
Allstars Tiger Woods and Ernie Els captained the USA Team and International Team, respectively. For many years, these two great players went head-to-head against each other, especially in several majors. In this outing, both proved just as adept at their captaincy.
Early in the event, Ernie was being lauded for both his pairings strategy and his advice on how to play this famous Royal Melbourne golf course–designed by the preeminent architect Alister MacKenzie–that he knows so well. The Big Easy was playing up to his nickname even though he was only conducting the orchestra.
Not so with the aging and surgery-laden Tiger Woods, who at 43 years old was a player-captain. Yet he walked away with from this event with the best record of anyone, which was 3-0-0 (=wins, ties, losses). So, it seemed the American team was celebrating for having such a good captain as much as they were for winning this elite competition among the greatest pros in the game of golf.