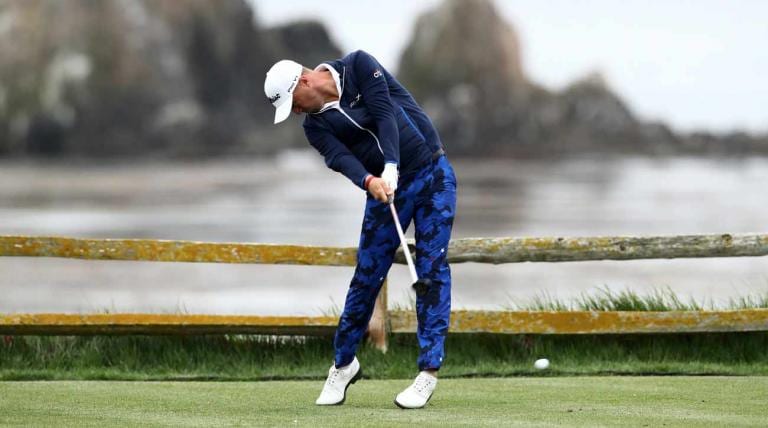 Justin Thomas, who has moved in and out of the #1 World Rankings in pro golf in recent times, just won the Sentry Tournament of Champions at Kapalua's Plantation Course on Maui Island, Hawaii, on the third playoff hole by defeating Patrick Reed. It was Thomas' 12th win on the PGA Tour. And it moved him into some pretty elite company. He joined Sam Snead, Jack Nicklaus, and Tiger Woods as the only pro golfers to ever win at least a dozen PGA Tour tournaments by the age of 27.
But it wasn't easy today. It was a day when the limited-field event of only 34 players, being last year's winners on the PGA Tour, could "lift, clean, and place" the ball on the fairways due to mucho rain the previous day. Yet the wind continued to howl. Players were backing off as they addressed the ball, sometimes due to wind gusts.
Thomas was paired in the last group with his friend Xander Schauffele. They were battling it out for the lead all day as both went on birdie runs. Then Thomas moved ahead by two at the 15th hole at a 16-under par total. Reed, meanwhile, was playing a few groups in front them. He holed a nearly 20-foot putt on the last hole to go to 14-under. No one thought that would get in a playoff.
But then, things started falling apart for Thomas. He's the guy with the really good, upright swing who hits the ball a country mile. He bogeyed 16 and 18. That last one was such a strategic error. The 18th hole is a whopping 677-yard par five that goes downill so much that it looks like its going right into the Pacific Ocean. The wind was helping somewhat so that the long hitters could possibly reach the green in two strokes. That certainly included Justin Thomas.
On that 72nd hole, which was supposed to be the last of the tournament, Justin did everything but play safe with his one-stroke lead. The 18th fairway is practically as wide as a football field is long, and the only trouble is a giant gulley to the left. So, all Thomas had to do is play safe by favoring the right side of the fairway. Yet Thomas swung really hard at his drive and hung back on his right side. That is automatically left! But he got lucky, so that his ball stayed barely in the fairway. He maybe could have reached the green on his second shot with a big hit. And it looked like that was his intention. Again, he swung really hard, and the ball went left again. This time he wasn't so lucky as the ball disappeared into the tall weeds of the lateral hazard for a one-stroke penalty.
The result was that Thomas and Schauffele ended regulation play tied with Reed at 14-under par to force a three-man, sudden-death playoff. They played the same 18th hole three times, except Schauffele dropped out on the first extra hole. The whole affair seemed so repetitive that it got difficult to remember who did what! (Or is that just my age.) I'd rather they would mix it up a bit by playing other holes.
On the third playoff hole, Thomas chunked (hit fat) his fairway metalwood shot in which he could have reached the green with it in two strokes. He took a huge divot, which you're not supposed to do with that club, and the ball went 100 yards short of where it should have gone. You don't see that much from the Tour pros.
One TV commentator asked what Thomas did in his swing to cause that. My friend Paul Azinger had been correctly pointing out that Thomas was sometimes not getting over to his front foot on his forward swing, causing his ball to go left. But I thought on that particular swing Justin simply dipped his head a bunch. That is the main swing error that causes fat shots.
But Thomas recovered beautifully on his third shot by hitting his 115-yard wedge to three feet or less for an easy birdie putt. Reed blasted his second shot with his fairway metalwood to have a long eagle putt. But Reed putted way short for a rare three-putt for him. Thomas then birdied to win the coveted trophy for the second time in this tournament.
The PGA Tour's Tournament of Champions has often been scheduled to begin the new year, as it was this week. It is one of the Touring pros' favorite tournaments of the year. It's largely because of the limited field, no 36-hole cut, and you're just more relaxed than normal it seems. I played in it twice. But I should have played it another time.
When Babe Hiskey and I won the PGA Team Championship, in 1972, it was during a two-year period when the Tournament Policy Board declared that tournament "unofficial." Thus, it didn't count as a win. Yet that tournament had been "official" for many years prior and afterwards.
Forty years later, Tiger Woods was about to pass Jack Nicklaus on the all-time win list, in which Jack held second place behind Sam Snead. A golf reporter inquired why Nicklaus was credited with his multiple wins of the Team Championship with his partner Arnold Palmer, yet Kermit Zarley, Babe Hiskey, Bobby Nichols, and George Archer were denied their wins of that event as "official." The members of the Tournament Policy Board, which always includes four Tour players, were unaware of that history. So, they immediately changed our wins to official. Yet, we didn't get to play in the Tournament of Champions for those wins. What about them apples!