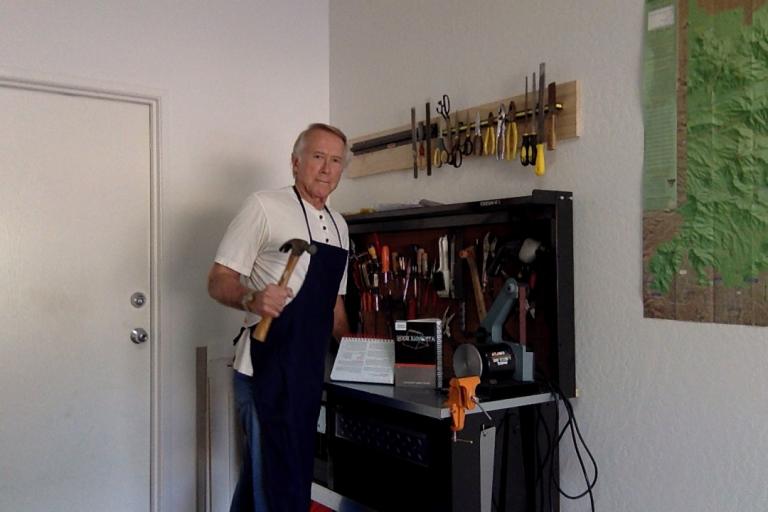 This week I received my third USPTO patent for my trademarked Triangle Book ("self-supporting book") invention. This is quite an achievement for me since I had given up on this project for nearly three years. After eight years, my daughter and I are about to restart our non-exclusive licensing campaign for the Triangle Book format to book publishers. But this time we have two offerings for them: a book format to license and a bookstand to sell. I'm psyched!
Yes, I'm a retired PGA Tour pro golfer. But as I say, "you never really retire." With me, now, I do two things (besides write this blog): write books and invent. The inventing is something I have tinkered with through almost all of my life. But I got serious about it ten years ago.
In my spare time while playing the PGA Tour, I had a "hobby," as I called it, of trying to build a better driver club in golf. I was working at the concept that later became known as "metalwoods" long before Gary Adams invented them.
When I came to the end of my fulltime career on the regular Tour, in 1982 at age 41, I had four things I was considering doing for a living. One was to start my own golf club manufacturing company, in which I would continue to pursue creating a better driver. Another was to work with Karsten Solheim (owner and founder) in design at PING, since Karsten had asked me to. But I decided to become a Christian author instead.
Then the Senior Tour blossomed years later. When I turned 50 years of age, I did that fulltime again for the next ten years.
A few years after I officially "retired" from competing on the Champions Tour, in 2005, I decided I wanted to see if I could invent things like I had always dreamed. It was a tough go for years. My goal was to improve the book. Some friends said I'd never do it. They likened it to trying to improve the wheel. But my main problem was that I had trouble getting the patent I wanted. All inventions don't need a patent, but many do. This one did. Now I've got the patents I wanted. We'll see if this catches on.
To see what I'm talking about, go to my website atrianglebook.com. This website is old and will be revised soon, to look better. But you'll get the idea. (As for my writing, see my seven published books at kermitzarley.com.)