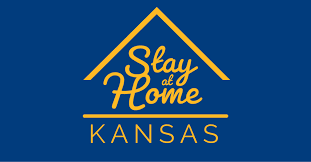 Yesterday, I posted about the Republican-controlled Kansas Legislative Coordinating Council voting on Wednesday to oppose, in a 5 to 2 vote, Democratic Governor Laura Kelly's revised executive order calling for a partial lockdown of Kansas citizens due to the ongoing COVID-19 pandemic. The Council opposed her withdrawal of two elements from her previous order: church services and funerals of more than ten people were exempted. So, the revised order eliminated that right. Regarding the discontinuing of church services of more than ten people, the Council claimed this was a denial of religious freedom if not a violation of the state constitution.
Last evening, Governor Kelly, upon legal advise, sued the Kansas State Legislature, claiming that its Council had no authority to rescind her revised executive order concerning COVOD-19. The governor also claimed in the lawsuit that the action taken by the Council is unconstitutional. She says the entire Legislature would have to pass a bill overturning her directive. It seems ironic this is happening on Crucifixion Friday and with Easter Sunday so near.
The governor made this revision to her executive order regarding coronavirus because state health officials learned that three clusters of the virus were due to church events. In addition, although Kansas only has 15 coronavirus deaths so far, it is now being reported that four of them are due to attendance at church services.
Lee Norman, Secretary of the Kansas Department of Health, advised today that citizens of Kansas ignore the state Council's revoking of the governor's revised order. Norman said he was "SO angry" as these legislators. He advised residents, "Stay home so we can beat this scourge. Despite what the 'leaders' of the Legislature say. We are so close, and they are doing politics. . . . Shame!"
This Kansas Supreme Court is expected to make an expedited ruling before Easter morning, thus today.