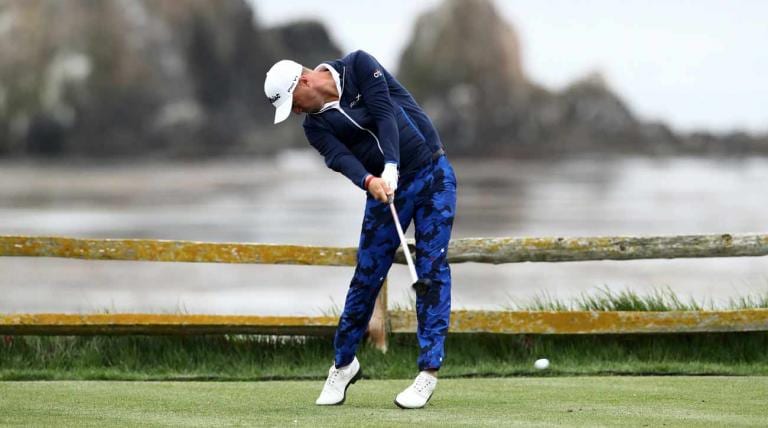 Justin Thomas came from behind to win the WGC-FedEx St. Jude Invitational golf tournament on the PGA Tour at the Southwind TPC in Memphis, Tennessee, with a five-under par 65 today at 13-under par 267 total by three strokes over four players tied for 2nd place: Brooks Koepka, Daniel Berger, Tom Lewis and Phil Mickelson.
Actually, the field was as bunched up at the top of leaderboard as you'll ever see when the leaders entered the back nine today. Brendon Todd lost his one stroke lead leaving five players tied at 11-under par. Amazingly, they remained that way for about 30 minutes, something you never see happen. Then Justin Thomas and Brooks Koepka moved in front, tied at 12-under and then 13-under.
They say it's better to be lucky than good. But Justin Thomas experienced both this afternoon. The big turning point between him and Koekpa, who was playing right behind Thomas' group, was the par five 16th hole. Thomas drove in the right trees and had to lay up with about a 100 yard wedge shot to the green for his third shot. From there, he could fly the ball close to the pin with sufficient backspin to stop the ball near the hole for an easy birdie putt.
Koepka played the same hole minutes later, more the way you are supposed to play it. But since he had about a forty yard wedge shot to the pin, had had to land his ball farther back on the green. Unfortunately, that was a downslope. Thus, his ball could stop with less backspin and skidded over the green, from which Koepka made bogey.
Thomas then got a really lucky break on his tee shot on the par-four 17th hole. He hooked it into the trees, but his ball landed on a cart path and bounced way, way forward, even past the trees for a clear second shot to the green to make par. He then birdied the par-four 18th hole to finish 13-under.
Koepka needed a birdie on the 18th to force a playoff. But he drove barely in the left water off the tee on the 18th hole to therefore give Thomas the victory. To make matters worse for Koepka, he double-bogeyed that hole to finish second with three others instead of alone at second.
It was long-hitting Justin Thomas' 13th win on the PGA Tour at only 27 years of age. And it thrust him back to #1 in Official World Rankings, overtaking Jon Rahm's short-lived, two-week reign there.
Justin Thomas only weighs about 150 pounds, yet the above photo shows when he hits a driver, at impact both heels are well off the ground, indicating how hard he hits the ball. It is not recommended to have the left heel off the ground at impact for right-handed players, since that makes it more difficult to be accurate and consistent; but it does show that he hits the ball very hard and thus long. But that will not be an advantage for Thomas next week.
Next week will be the first major of the shortened pro golf world's season–the PGA Championship to be played at the famed public golf course Harding Park in the Bay Area of San Francisco. That is a fun golf course where the big bombers don't have the edge since the fairways are narrow with so many beautiful evergreen, fir, and maybe cedar trees. The straight hitters will have the advantage there and those who can strategize their way around the park.
The much-loved television star Danny Thomas had his name on this tournament for many years because of his association with the St. Jude Hospital, known for its care of children, located there in Memphis. Today, another Thomas was a winner for St. Jude.
Incidentally, when I used to play in this tournament for many years, it put a smile on my face when I would think about how a hospital named after one of Jesus' brothers was receiving proceeds from our tournament to help children.
St. Jude refers to the Letter of Jude in the Bible's New Testament (NT). Danny Thomas was a Catholic, and Catholics are taught that Jesus' mother, Mary, had only one child–Jesus. Non-Catholic Christians, such as myself, generally believe that Jesus was Mary's first child but that she had several children after that and that the St. Jude in the NT was one of them, thus one of Jesus' brothers. As regarding many things biblical, it all comes down to interpretation.
The Gospel of John says that later in Jesus's ministry, he was being careful about attending Jewish festivals at Jerusalem since religious leaders "were looking for an opportunity to kill him" (Jn 7.1 NRSV). Then we read, "Now the Jewish festival of Booths was near. So his brothers said to him, 'Leave here and go to Judea so that your disciples also may see the works you are doing; for no one who wants to be widely known acts in secret. If you do these things [miracles, healings, exorcisms], show yourself to the world.' For not even his brothers believed in him). . . . But after his brothers had gone to the festival, then he also went, not publicly but as it were in secret" (vv. 2-5).
Were they Jesus' blood brothers or merely his male disciples? All three synoptic NT gospels report about Jesus being in a house and that "while he was still speaking to the crowds, his mother and his brothers were standing outside, wanting to speak to him. Someone told him, 'Look, your mother and your brothers are standing outside, wanting to speak to you'" (Matthew 12.46-47; cf. Mark 3.31; Luke 8.19-20). Jesus looked around at those listening to him and said of them, "Here are my mother and my brothers" (Mt 12.49).
Notice that the author author distinguishes between these "brothers" and them speaking to Jesus about his "disciples," as if they are not his spiritual brothers since they distinguish them, his disciples, from themselves. So, they were not his disciples, at least prior to his death. See my post about this, "Jesus and His Unbelieving Relatives."
If they were Jesus' blood brothers, as these texts seems to say, how many were there and what were their names? Well, soon after that, the synoptic gospels also report concerning Jesus, "He came to his hometown and began to teach the people in their synagogue, so that they were astounded and said, 'Where did this man get this wisdom and these deeds of power? Is not this the carpenter's son? Is not his mother called Mary? And are not his brothers James and Joseph and Simon and Judas? And are not his sisters with us?'" (Matthew 13.54-56; cf. Mark 6.1-6).