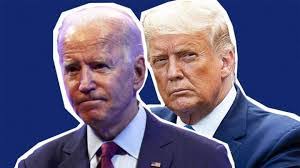 Tonight was the First Debate leading up to the presidential election come November 3 between current U.S. President Donald Trump and former Vice President Joe Biden. To me, Biden was the clear winner mostly because Trump came across as such a bully by constantly interrupting not only Biden but also moderator Chris Wallace. Added to this was the fact that Trump's tone was almost always louder than the other two men. An example of Trump's bulling was that at one point early in the debate, Trump said to Wallace, "I guess I'm debating you too."
The result of Trump's constant interrupting was that the debate was so often chaotic, in which two men were talking at the same time making it difficult for viewers to hear was being said. Wallace therefore came across as having little control over the debate, making Wallace look rather inept. He never raised his voice demanding that Trump stop interrupting. At one point, when Wallace asked Trump to stop interrupting for the nth time, Biden pined, "He doesn't know how to do that." Throughout the debate, Biden remained pretty calm and smiled many times, whereas Trump had an angry scowl on his face just about the entire debate. The debate was therefore quite chaotic.
The debate was divided into several segments involving various subjects, such as the virus, economy, health insurance, race relations. etc. Trump was his worst regarding the latter. Wallace asked Trump repeatedly if he would condemn white supremacy. Trump never did. Instead, he resorted to his constant refrain of deflecting to another subject and thereby not answering the question or addressing the issue being discussed.
Concerning race relations, Trump was strongest, as was to be expected, on arguing for law-and-order. But he wrongly accused Biden of not supporting "law enforcement," even alleging Biden couldn't say those words. Biden then promptly said "law enforcement" and gave what I thought was a very sound response to the problem of systemic racism in the U.S., affirming the right of Americans to peacefully demonstrate, condemning violence in such demonstrations, and asserting he would as president call all authorities together to try to improve this problem.
This was evidence that throughout the evening, Biden, as was to be expected, came across as a uniter whereas Trump could not extricate himself from his growing reputation as a divider. And Joe Biden often appeared sincere in this and other issues when he would directly look into the camera with a somber look on his face and speak to the American people, whereas Donald Trump never did this. That was another main thing about the debate that made Biden the clear winner.
To sum, IMO, the constantly frowning Donald Trump performed like a crazed dog trying to escape the dog catchers. What do I mean?
Sunday, The New York Times dropped a bombshell by revealing that it had legally obtained the federal of Donald J. Trump for the past twenty years. And the Times claimed that they reveal many shocking things. For example, the self-proclaimed multi-billionaire Donald Trump never paid any federal taxes, besides social security, etc., for ten of the past fifteen years. And in both 2016, the year he won the presidency, and 2017, the first year of his president, Donald Trump only paid $750 in federal income taxes. Most Americans pay more than that. In fact, the average American pays something like $12,000 per year in federal income taxes other than social security.
Moreover, many investigations are ongoing in New York State regarding the Trump Organization possibly being guilty of both state tax fraud and insurance fraud mostly about inconsistent assessments of Trump's many properties. That is old school tax evasion. Trump is contesting owing the IRS $73 million in taxes, which, with penalties could amount to over $100 million. Moreover, Trump's tax returns show that he is carrying over $400 million in debt, most of which comes due in the next four years. Speaker of House Nancy Pelosi said for the sake of our national security, we Americans need to know who owns that debt because Trump could be compromised by it with foreign nationals.
I believe that in recent weeks and tonight,Donald Trump has been performing like a crazed dog trying to escape the dog catchers. What do I mean? Many investigations are ongoing in New York into the Trump Organization for tax and insurance fraud for possible crimes that could send Donald Trump from the White House to the Big House, as I blogged recently.
Polls show that Biden has been leading Trump nationally in this presidential race by 7 to 10 percentage points for weeks. Therefore, Trump was under pressure to outperform Biden in order to gain ground on Biden. It didn't happen. So, Trump is in deep trouble.
I thought the facial expressions on both candidates tonight when the debate ended summed things up: Donald Trump had a big frown that characterized his evening and Joe Biden had a big and infectious smile on his face.