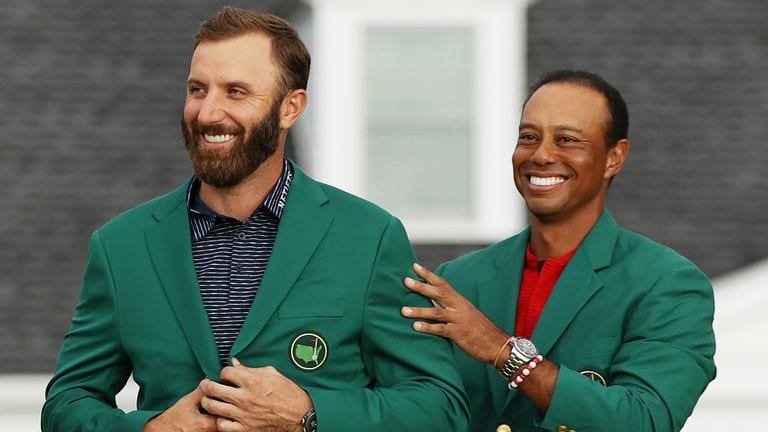 Dustin Johnson proved today that he is indeed the world's #1 pro golfer by shooting a final round 68, four-under par, to win the Masters by five strokes. And he set an all-time scoring record in doing so with a total score of 268, twenty-under par. Thus, he beat the record of eighteen-under par 270 first set by Tiger Woods in 1997 and tied by Jordan Spieth in 2015.
It was Johnson's 24th win on the PGA Tour and his second major win. The other was the U.S. Open at Oakmont in 2016. Until then, long-hitting Dustin Johnson had a record of being such a great player, but not winning any of golf's four major championships, which is the main measure of greatness in professional golf. Not only that, prior to that 2016 Open win, Johnson had led or shared the lead in four majors without winning. So, it looked like maybe he was prone to folding under the pressure in golf's biggest events. However, one of those, the PGA Championship, he lost due to a really unfortunate, if not unjust, penalty on the last hole. And in another, the U.S. Open at Pebble Beach, he just messed up the last day with a big number. I know how it feels (1972 Open, there, I led with 12 holes to play and shot 79).
But Dustin Johnson is now really establishing himself as one of pro golf's greatest players. When this guy wins, sometimes its by a bunch of strokes. With a four-stroke lead starting the day today, it looked like it might be one of those days. But Dustin bogeyed the 4th and 5th holes to be two-over par for the day and leading only by two strokes. But that's as close as anybody ever got to him. So, hats off to Dustin Johnson for winning his second major.
Not so for the great Tiger Woods, who has fifteen major wins. As defending champion, he later performed Masters tradition by putting the Masters green coat on Dustin Johnson. Johnson said afterwards about the jacket, "Having Tiger put it on was awesome. You wouldn't want it any other way." Then he smiled and added, "But any guy could have put it on, and I'd be just fine." That's cool!
I say "not so" for Tiger since the last two days it looked like he was walking very carefully like a kitten, and bending down very slowly to tee up his ball or get it out of the cup. It's because the Tiger sometimes feels like a kitten due to his bad low back, which has undergone four surgeries. Yet Tiger was five-under par for the tournament today, about in 12th place, when he reached the little par-three 12th hole. It then became a fight between a tiger and lion since Rae's Creek that borders the front of that narrow, sideways green has gobbled up so many balls struck by these elite pros during Masters week.
The main problem on August National's 12th hole is the tricky wind when it blows. And the wind was kicking up today. The landscape around there is sort of shaped like an amphitheater, with the trees on the hillside behind the green making it worse. The wind can swirl around and change directions while your ball is in the air. (I've had it happen to me.) Tiger explained afterwards that that is indeed what happened to him as his tee shot hit the sloping bank short of the green and rolled backwards into the water.
From there, it just got a lot worse. Tiger hit a total of three balls in that water to finish the hole with a ten. I'm sure that was Tiger's highest score on a single hole in the professional golf career. When you see a high number like that on a pro's scorecard, you'd expect that it was on a par five. Thus, Tiger's ten on the 12th was seven-over par. But from there, the Tiger redeemed himself as he shot five under par the next, and last, six holes.
Dustin Johnson is as stoic and unperturbed as a golfer playing championship golf. But after play today, he surprisingly teared up when he reminisced how he grew up in North Carolina, only a hundred miles from Augusta National Golf Club, always dreaming as a kid playing golf about someday winning the Masters. The only thing missing this perfect story was the missing "patrons," as they are called at the Masters, meaning the golf fans, due to the restriction on the PGA Tour of no, or very few fans, because of COVID.