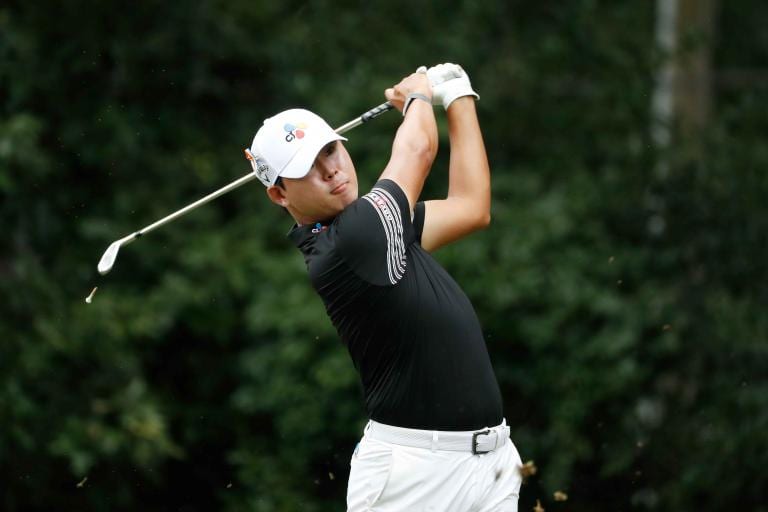 Si Woo Kim just won The American Express golf tournament on the PGA Tour at LaQuinta Country Club near Palm Springs, California. He bested Patrick Cantlay, who shot an 11-under par 61 today, by one stroke with a 64 for a total 23-under par. But he had to play some clutch golf at the end by birdieing the 16th and 17th holes to then lift the trophy. It was Kim's third PGA Tour victory.
There are so many good golf swings on the PGA Tour nowadays. For an older, former PGA Tour player like me, it shows how the younger generation is learning the game better than we did with improved swing technique taught by their swing coaches. Both Kim and Cantlay have really good golf swings. It appears that they swing the club on their downswing in relatively the same plane that they made in their backswing. That is the main key to great ball striking as the legendary Ben Hogan made famous.
However, it is interesting to me that Hogan said he tried to make his downswing plane slightly inside his backswing plane. In fact, he affirmed that to me in a conversation we had one time about the golf swing. But when I examined my films of Hogan's swing, you sure couldn't hardly tell any difference between his two swing planes. It looked like he was right on the same track coming down as he had made going back. But then, no one was as particular about specifics as Ben Hogan.
I'll tell two stories to make my point. One time Ben walked into his Ben Hogan Golf Company factory and was presented with a new iron the company was about to make. Hogan took one look at it and threw it into the adjacent dumpster and said, "Start over." But one of my favorite Ben Hogan stories–and there are many–is that one time he was playing in a tournament and he asked his caddie how far it was to the green so he could select his iron accordingly. The caddie said, "147 or 148 yards." Hogan stared at his caddie and then said curtly, "Make up your mind, will ya'."
Next up on the PGA Tour schedule is the Farmers Insurance at Torrey Pines, San Diego, and then here near where I live–Waste Management Phoenix Open at Scottsdale TPC. With virus protocols still in place on the PGA Tour, thus no galleries, the latter tournament will be like a funeral march compared to the rowdy bunch that gathers at the famed grandstands that normally surround the par three 16th hole. It just won't be the same tournament. Nevertheless, the players still get paid big bucks for wielding their irons and chasing their ball while playing the greatest game on grass.