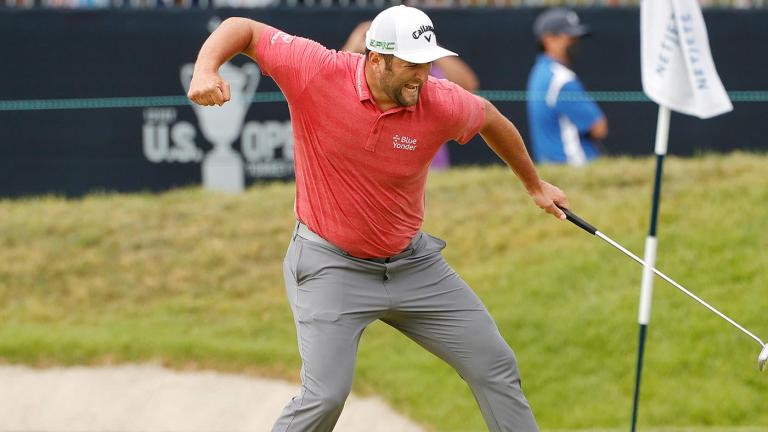 Spaniard Jon Rahm made his move into expected superstar status today by winning his first major golf championship, the U.S. Open at Torrey Pines, in blazing style. He birdied the last two holes with lengthy, very curving birdie putts to beat South African Louis Oosterhuizen, the 2010 U.S. Open winner, by one stroke. And when Rahm made that last putt, the big man practically shook the ground when he rushed forward in ecstasy with a right arm upper-cut punch into the air.
But Rahm still had to wait and see what the South African was cooking up, playing behind him. Sweet-swinging Louis didn't arise to the task as he hooked both of his last two drives left of the fairway. He had to take a penalty stroke to drop out of the hazard on the par-four 17th hole. That resulted in a bogey in which Louis fell behind after he has been leading the tournament for a few holes. It was a bitter disappointment for the would-be farmer, adding to his runner-up status in major championships that now totals six, with the one major win in 2010.
Rahm said in the interview after the round that he believes in karma so that this win was a sort of redemption for him after his disaster two weeks ago at the Memorial. He had a whopping six-stroke lead after three rounds and was then told by PGA Tour rules officials that he had to withdraw from the tournament, in accordance with Tour protocol, because he had tested positive for COVID-19 the previous day.
On the back nine today, defending champion Bryson DeChambeau looked like "the mad scientist"–his nickname–mixing up some dangerous chemicals in the lab as the cocktail exploded and knocked him for a loop. He was alone in first place and then proceeded to finish eight over par the last eight holes. It included a 7 and an 8, with only one penalty stroke, giving him a back nine total of 44.
Bryson explained that he "had bad break after bad break happen." He added, "I've had plenty of times where I hit it way worse than today and I won. It's just one of those things where I didn't have the right breaks happen at the right time. I could have easily gotten to 7, 8-under today. I just wasn't fully confident with the golf swing and just got a little unlucky in the rough and a couple other places."