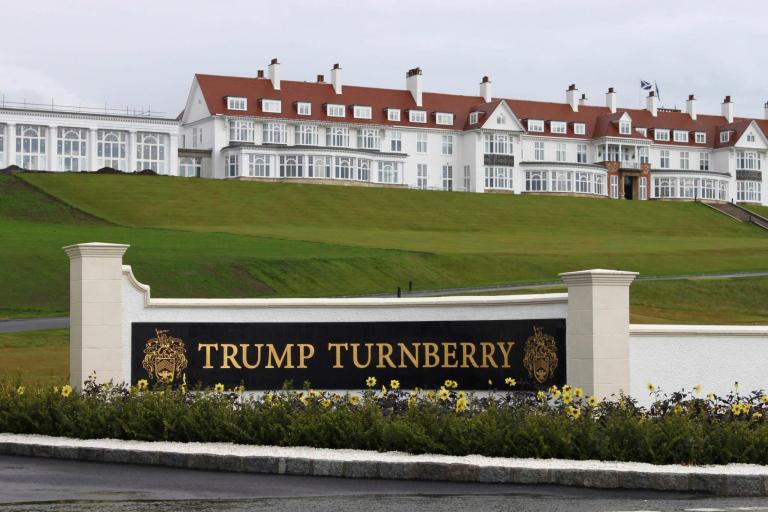 In 2006, Donald Trump bought 1,000 acres of land near Aberdeen, Scotland through his Trump Organization. He then built a golf course there, later claiming he spent over $140 million on the entire project.
In 2014, two years before Donald Trump became the U.S. president, he made a more a similar but more substantial purchase by buying the famed Turnberry golf course and renaming it Trump Turnberry. For a long time, Turnberry has been one of the few golf courses included in the rotation for The (British) Open. Records show Trump paid $60 million for it and and its accompanying resort. He then upgraded the property by spending another $100 million, all in cash.
In 2014, and several years leading up to it, Donald Trump paid no taxes on his U.S. tax returns and declared some substantial financial losses on them. Thus, people have questioned how the seemingly cash-strapped Trump Organization got that much money to pay for the Turnberry property and its improvements. Some have claimed it was due to Trump doing illegal money-laundering with Russian oligarchs.
In fact, Trump's son, Eric, who managed the Trump Organization while his father was the U.S. president, once admitted publicly, and rather nonchalantly, that most financing for Trump Organization purchases had been coming from Russia. In recent years, the Trump Organization has lost money of these two investments.
In 2018, Scotland's government established a provision called the Unexplained Wealth Order. It was directed especially toward organized crime and drug trafficking. Avaas, a U.S.-based activism group, petitioned Scotland's courts to open an investigation into how the Trump Organization purchases those two properties. Early this year, the Scottish parliament under pressure have voted against opening such an investigation.
Wednesday, a Scottish judge ruled in favor of the Avaas petition, thereby opening an investigation about these Trump purchases in accordance with the Unexplained Wealth Order, which is also called colloquially "the McMafia Order." If the Trump Organization fails to cooperate by revealing the requested information, these two golf properties will revert back to their original owners. And if that happens, it will appear that Trump's critics were right–he did money-laundering with perhaps Russian oligarchs to purchase these properties. And if that happens, could private citizen Donald Trump be charged with crimes?
P.S.: Soon after the Capitol riot instigated by President Donald Trump, on January 6 this year, the Royal and Ancient Golf Club, which controls The Open, announced that Turnberry was being removed from the rotation golf courses that host The Open. Although it did not say, it is pretty obvious they did it because of the U.S. House of Representatives second impeachment of Trump as president due to the Capitol riot.