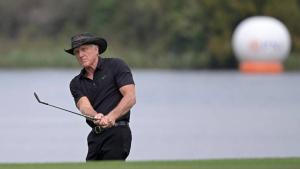 It is now being reported that retired, superstar pro golfer Greg Norman may be on the way out as the director of LIV Golf Investment that is scheduled to conduct the tournaments on the new, break-away pro golf tour named Super Golf League that is being financially backed with lots of greenbacks by the Saudi Arabian sovereign wealth fund (PIF). This golf tour concept is causing quite the controversy on the PGA Tour since it will compete against the PGA Tour and former European Tour for their best players. And the PGA Tour has announced that if any of its members participate in any SGL events without permission, they may get banned for life from the PGA Tour.
Well, most of the biggest stars on the PGA Tour have said they will not participate on this Saudi-backed tour or do so only with permission, which will be very sparing. SGL tournaments will guarantee players a substantial upfront fee as well as tournaments purses twice as large as those on the PGA Tour. Appearance money was banned on the PGA Tour way back before I ever started playing.
Norman has been in the hot seat making statements in defense of this SGL tour and the Saudi money behind it that have been highly criticized. He has had to answer media questions about the morality of being involved with the Saudis, who have been getting involved in professional sports to clean up their public image due to having an abysmal record on human rights and their gruesome assassination of world-class journalist Jamal Khashoggi two years ago.
Norman's defensive remark on behalf of the Saudi royalty that came down like he swung a ledge hammer to hit his little white golf ball was, "We all make mistakes." The whole statement quoted was this concerning the assassination: "Everybody has owned up to it, right? Take ownership no matter what it is. Look, we've all made mistakes and you just want to learn from those mistakes and how you can correct them going forward." THUD!
Now, it is now being reported that Sean Bratches, LIV Golf's commercial chief, has resigned due to all the hoopla. He had been responsible for much of the "sportswashing" which the Saudis are being accused, that is, their involvement in Formula One racing and other sports. Alan Shipnuck, the author of the new, unofficial and damaging biography entitled Phil–which is about pro golf's superstar Phil Mickedlson who was going to be a major participant in SGL tournaments–revealed that Norman is going to be fired after being hired recently, in October. Apparently, the Saudis think they can get someone better to clean up their mess.