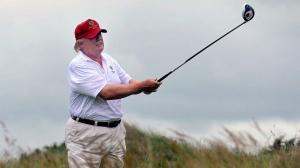 I have been blogging about the big controversy in pro golf about a break-away tour that is financially backed by Saudi royalty that raises ethical issues for some of the pros. It is because the Saudis are executing a sportswashing program to clean up their image tarnished by their poor record on human rights and especially their most gruesome assassination of world-class journalist Jamal Khashoggi. They are doing so with a proposed pro golf leagues directed by Greg Norman that would compete with the PGA Tour for its players. Superstar pro golfer Norman, having been a foreigner from Australia, has always had a grudge against our Tour because it didn't allow him to be a member and compete in a bunch of foreign tournaments during the same weeks as our tournaments. But that has always been the only way the PGA Tour could guarantee strong fields for its tournament sponsors and television networks.
Some of these posts I've written have been about my friend and fellow competitor on the PGA Tour in days long gone–Jack Nicklaus the GOAT. Here are two posts: "Jack Said 'No' to Saudi-backed Tour" and "Jack Needs Another Mulligan." Jack has been a big supporter of Donald Trump as president, and quite vocal about it, whereas I have written a book entitled Bible Predicts Trump Fall.
Last year, after the Capitol riot on January 6th, the PGA of America soon announced that it was changing its venue for its championship, which started today, from the Trump golf course in Bedminster, NJ., to Southern Hills CC in Tulsa, Oklahoma. So, this week Mr. Nicklaus criticized that decision by calling it the political term "cancel culture."
I've been chronicling these pro-Trump statements by Jack that he has made over the past few years. To me, each one is like he's out playing golf, standing in a bunker to hit his ball, but he can't swing his club because he's in quicksand and sinking out of sight!
Now, former President Donald Trump has entered into the foray. He has a major interest in this since five SGL tournaments are planned this year, and the fifth and grand finale is in October at his Trump Doral Miami course where I loved to play the Doral Open of the PGA Tour and barely lost one year by one stroke.
Trump wrote on his Truth Social platform this week, "The PGA of America and the PGA Tour have been taking advantage of the players for many years. The PGA [Tour] has maximum Tax Exempt Stratus, makes a fortune and pays executives salaries higher than virtually any of the very talented players can make in a good year. LIV can change that.
"Backed by Saudi Arabia (just like Formula One, UFC, boxing, tennis and almost all sports) unlimited amounts of money will be available for the players," etc.
Well, I've already stated my opinion on this matter, which is that the PGA Tour most certainly has not been taking advantage of its members. That is a complete disregard for the structure of the organization, in which policy is set by a board consisting of four players and some CEOs of corporations who volunteer their time merely because they love golf and like the PGA Tour and its players. Plus, I don't think it looks good for the pros to get involved with the Saudis right now, especially when some, like Mickelson and Norman, in doing it are biting the hand that fed them–the PGA Tour.