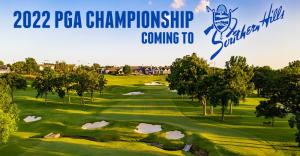 I blogged yesterday that "Jack Nicklaus Said 'No' to the Saudi-backed Tour." I've also blogged in the past, "Are Tiger Woods and Jack Nicklaus Right–'Respect the Office;'" "The Fallacy of Tiger Woods Logic;" and "Nicklaus Needs a Mulligan." All of these are chapters in my new book, Bible Predicts Trump Fall.
Now, with one of the four majors in golf, the PGA Championship, about to begin this Thursday at Southern Hills Country Club in Tulsa, Oklahoma, where I played the 1970 championship, I think Jack needs another mulligan. But it looks like he's pretty head-strong about this issue, as I am from the other side of this dispute, regarding former President Donald Trump. We're going to find out a lot more about his presidency, at least regarding the Capitol riot on January 6th last year, with the upcoming televised hearings to be conducted by the House special committee investigation of that event, to begin June 9th.
Nicklaus gave an interview this Monday wherein he revealed he was asked first to head up the new, Saudi-backed pro golf tour that is about to begin. Called the Super Golf League, it will be conducted by LIV Golf International and directed by Greg Norman.
Des Bieter related yesterday in The Washington Post more about that interview, saying, "Nicklaus also weighed in on the PGA of America's decision to award this year's PGA Championship to Tulsa's Southern Hills Country Club after it responded to the Jan. 6, 2021, attack on the U.S. Capitol by removing the tournament from a New Jersey club owned by President Donald Trump.
"'This move is cancel culture,' Nicklaus, who has shown support for Trump on numerous occasions, said of that decision. 'Donald Trump may be a lot of things, but he loves golf and he loves this country. He's a student of the game and a formidable figure in the game. What he does in the future in golf will depend on what the cancel culture will allow him to do.'"
So, my friend and GOAT in professional golf now says that the PGA of America, of which he has been a lifetime member, committed "cancel culture" by changing the venue of its preeminent championship. Yet it did so due to the stigma it would have suffered if it had conducted the tournament at a Trump golf course on account of the Capitol riot. For, the House of Representatives of the U.S. Congress had determined in its second impeachment of President Donald Trump that he had instigated the riot with his 80-minute speech that day, resulting in "insurrection," which means an attempt to overthrow the U.S. government.
So, on the contrary, Jack, if the PGA of America had not made that change, most Americans would have been quite put off with this elite body in professional golf. Talk about restricting the motto of both the PGA of America and its sister organization, the PGA Tour, which is to "grow the game."
So, with all due respect to my friend, I think Jack Nicklaus needs another mulligan except that it would not be "another" since he never took one in the first place.