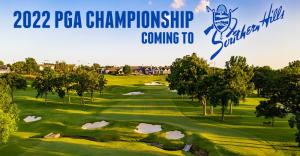 The PGA Championship started today at Southern Hills Country Club in Tulsa, Oklahoma. It is one of the four major championships in golf held throughout the year. They are now conducted in this chronological order: Masters, PGA, U.S. Open, and The (British) Open.
Four-time major champion Rory McIlroy has taken the early lead in the first round of with a five-under par 70. Lurking one stroke behind him, with a 66, are youthful Will Zalatoris and Tom Hoge. They played in the morning half of the field.
Tiger Woods is there, too. He played with McIlroy and shot a four-over par 74. The Tiger actually got off to the good start with two under par for his first five holes. But he didn't manage well after that. Tiger is playing in his second major, having played the Masters late last year, after having a surprising recovery from a near fatal, single, car accident. Doctors even considered amputating his leg. Tiger, with 15 major wins to his credit, is still trying to catch Jack Nicklaus' 18 major wins, which is the most of all.
This historic golf course has hosted several major championships, including the 1970 PGA Championship that I participated in which Dave Stockton won. They have renovated the course by installing a unique irrigation system under the greens that keeps the soil temperature at about 60 degrees year round. They say it is turning out quite successful and that it may become standard fare in some of the great, championship golf courses around the U.S. and perhaps elsewhere.
Southern Hills Country Club is a pride and joy of Tulsa. It is a somewhat hilly layout, mostly sprawled out on the side of a slight hill. The majestic clubhouse sits above the course, overlooking it, with the distant skyscrapers of downtown Tulsa visible on the horizon.
One of my favorite players who won the PGA Championship, back in 1957, which was before I started the PGA Tour, in 1964, was Tommy Bolt. He was such a colorful guy, with a great golf swing and a lot a humor. But Tom also had quite a temper, and that's how he got his nickname "Tommy Thunderbolt." There's just about nothing worse for a golfer than having a really bad temper. It can cause you to lose such control with your game that you just throw strokes away as if you couldn't care less.
After Tommy Bolt won that PGA Championship in Tulsa, in 1957, it occasionally was reported through the years that during that tournament he carried a notecard in his pocket that read, "I can do all things through Christ which strengtheneth me." That is a verse in the King James Version of the Bible. Written by the apostle Paul, the reference is Philippians 4.13.Many years later, I asked Tom if that was true about him carrying that card, and he confirmed that it was. He said he memorized it and thought about it all week.
Decades later, after Tom was retired, he told me that he and wife started every morning reading the Bible together. I know that a lot of people, especially his pro golfing buddies on the PGA Tour, would have been surprised to hear that because of Tom's reputation for being just a regular guy, funny, proud, and prone to temper tantrums.
Yesterday, one of the television commentators broadcasting at the PGA Championship said that the great Ben Hogan once said that the design of the 12th at Southern Hills Country Club was his favorite hole he had ever played in a U.S. major championship. That hole is a slight dogleg left par four, with a a creek on the right side of the green.
Ben Hogan was a man of few words. But for us Touring pros who were there to hear him–which wasn't much for me since I came along after his generation–when Mr. Hogan spoke, you listened. He had so much wisdom about the game of golf, which he was quite tight-lipped about. But sometimes he could surprise everyone.
Both Ben Hogan and Tommy Bolt could be very sarcastic! You really had to be quite a person to become a true friend of Ben Hogan. So it was with Bolt. Ben Hogan loved Tommy Bolt. Hogan was by far the greatest ball striker of all time. So, he certainly appreciated good ball striking when he saw it and a good golf swing that produced it. That was Tommy Bolt.
One time Ben Hogan–probably with a slight grin on his face–said something to this effect to his beloved friend Tommy Bolt because of his temper, "If doctors could put my brain in your head, there's no tellin' how many majors you would have won!"