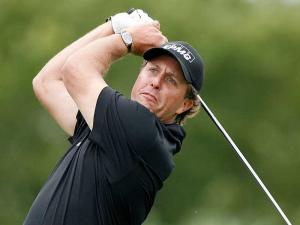 Phil Mickelson put himself on the hot seat months ago by criticizing the PGA Tour and admitting that Saudi royalty is full of some dangerous folks to get involved with due to their abysmal record on human rights and their gruesome assassination of world-class journalist Jamal Khashoggi two years ago. Nevertheless, Phil was touting the new, break-away pro golf tour– the Super Golf League. It is backed by the Saudi's sovereign wealth fund (PIF). They are offering to throw a lot of greenbacks at the world's best swingers on grass. But the PGA Tour has ruled that if any of its members play any SGL tournaments without permission from them, with the first tournament scheduled next month in London, those players may be banned for life from the PGA Tour. Serious stuff!
The book entitled Phil recently was released that tells a lot about it. An unofficial biography about Mickelson, it has such damaging quotes to his reputation that some of his sponsors dropped him like a lead golf ball. Phil then produced a written statement to the media, explaining himself and offering a rather tepid apology for his remarks, such as claiming the PGA Tour was guilty of "obnoxious greed." For many golf fans, Phil's apology didn't suffice even though he has been beloved by golf fans more than any pro, largely due to his abundant transparency throughout his career.
But now, where's Phil? That's what some are saying at the PGA Championship this week. Because of this hoopla about SGL, LIV Golf Investments, and Greg Norman that is directing it, Mickelson pulled out of both the Masters and the PGA Championship this week. Yet the latter was set to celebrate Phil's tremendous accomplishment in winning this tournament last year to become the oldest winner of any of the four major championships in golf. We haven't heard from Lefty since that apologetic statement.
Well, it turns out that Mickelson is not exactly hiding out exclusively like he said he was going to do, to attempt some personal rehabilitation. He held a press conference last week in which he introduced a new business of his in selling a CBD product named Keoni CBD Gummies. He even has ads about it with certain sports celebrities beside him endorsing it, such as Tiger Woods, Charles Barkley, and Tom Brady. Of course, Mickelson isn't the first superstar pro athlete to go hog wild with CBD. Larry Bird, one of the NBA's GOATs, has been doing it for many months, and he just doesn't get involved in any quackery.
I've tried CBD for the past six months and even before that, using it every day. It's because I have a relative who got into this business. I'm still not sure if CBD helps, though I think it might help minor pains. However, I'm not sure if any improvement was permanent for me. The FDA does not test and rule on supplements, such as CBD.
Fox News reported today that Mickelson has made public statements to the effect that "his CBD wellness line is 85% cheaper and four times more effective than those being offered by Bayer and other 'Big Pharma' companies."
It turns out that big pharma is not taking this wellness claim lying down. Fox further reports, "Bayer and Purdue Pharma were furious after seeing a massive dip in their sales, calling for Phil Mickelson to be indicted, saying: 'We're happy Mr. Mickelson found something to replace prescriptions, but his announcement was a direct breach of contract. His network should fire him immediately and he should formally apologize.'"
Thus, Fox News further reports that the next day Mickelson declared, "I'm not going to let these companies intimidate me." I'm not so sure Lefty is that good at offering apologies. But has he gotten himself into legal trouble by saying his product is that good compared to there's? Phil, Bayer is pretty big stuff!