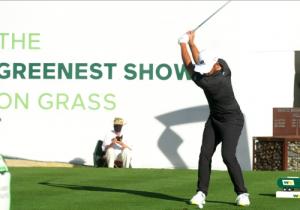 I'm referring to golf. "The Greatest Game on Grass" is what officials of the PGA Tour's Phoenix Open, staged near where I live, used to call their most attended golf tournament in the world by far every year. But when they brought Waste Management along as their sponsor, the tournament's focus shifted to being environmentally-friendly with the tagline altered to "The Greenest Show on Grass."
However, there's a big problem here in the Southwest USA–DROUGHT! It's been going on for many years and is getting worse every year, and there is no let-up in sight. It's causing a huge reduction in the flow of water of the Colorado River which supplies so much of the water in the Southwestern states, especially in Arizona and Nevada.
Now, an important Southwestern city recently passed a law requiring that homeowners cannot have lawns. So, those who have lawns must have them dug up and removed.
That city is LAS VEGAS. Yet, this destination resort, like Scottsdale, Arizona, where I live, has as one of its very important lures to vacationers many beautiful golf courses full of grass that require a lot of water to sustain them.
Will Las Vega city officials ever require that their golf courses be removed due to such severe drought? I dunno. As a pro golfer–seems impossible to me. But will other Southwestern cities follow the lead of Las Vegas in banning grassy lawns at homes? I think that is quite possible. What do you think?
If Las Vegas ever bans golf courses, dedicated golfers accustomed to visiting Las Vegas to play their favorite game on grass will be singing that feature song in the movie that Nicolas Cage and Elisabeth Shue starred in–"Leaving Las Vegas."