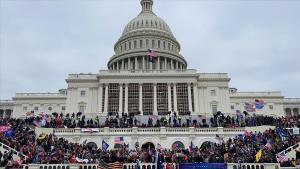 The sixth televised hearing by the Special House Committee investigating the January 6th Capitol riot was held yesterday. By now, perhaps most Americans know some of what twenty-five year old Cassidy Hutchinson, the sole witness for two hours, testified about. She was the principal aide to President Donald Trump's Chief-of-Staff Mark Meadows. Her office was right next to both the president's Oval Office the office of Mark Meadows, thus right between them. She said it took 5-10 seconds for her to walk from her office to either the Oval Office or Meadows' office. According to her testimony, and for such a young person, she had surprising contact with the nation's top leaders. And according to White House staff, she was a huge advocate of Republican President Trump and especially of Meadows until her esteem for the president began to crumble quickly due to his increasingly hostile behavior after he lost the presidential election to Democrat Joe Biden.
There were several things in Ms. Hutchinson's testimony that were absolutely jaw-dropping. Her testimony consisted of her in-person questioning and answering by Vice Chair Liz Cheney–Republican Representative and daughter of former Vice President Dick Cheney–and video of her having answered questions in the past while being deposed by the committee four different times. Ms. Hutchinson, who has a quiet, rather unassuming, presence, exhibited tremendous courage in doing this. As she was testifying and afterwards yesterday, Trump reportedly was posting on his Truth Social outlet, accusing Ms. Hutchinson of being a "phony" and a "liar." Who should we believe? How can we expect anything else from, as I say in my book, Bible Predicts Trump Fall, "the biggest liar I have ever seen." Fox News anchor Bret Baier said it well–Hutchinson spoke under oath, and Trump did not.
For me, the portion of Ms. Hutchinson's testimony that was most devastating to Mr. Trump is that she claimed that right before he gave his 80-minute speech outdoors at the Ellipse park, in the tent behind the stage she saw him become very angry when he arrived and saw that there was not as large of a crowd as he was anticipating inside the fenced-off area. The Secret Service told him attendees were being screened at the entrance/exits with magnetometers, which are metal detectors. They said some attendees were armed with guns, knives, and even some with AR-15 assault rifles and therefore were not being allowed inside the perimeter, but remaining outside it. The committee showed video of some armed attendees up in trees.
According to Ms. Hutchinson, who was there in the tent with Mr. Meadows, the president then became irate. She said she heard him yell, with expletives, "I don't care f____g care that they have weapons. They're not here to hurt me. Take the f___g mags away. Let my people in. They can march to the Capitol from here. Let the people in. Take the f___g mags away."
When Trump was concluding his speech, he told the crowd to march over to the Capitol. He said he was going with them. It has been widely reported that hardly anyone of Trump's inner orbit, including his Secret Service detail which should know such things as much as anybody, knew about this, so they were shocked. It appears to me that this was a part of Trump's plan, which he purposely didn't reveal. It was going to go with this armed and angry crowd, which he was purposely riling up to commit violence upon the Capitol. But his ultimate aim was to frighten the 535 members of Congress gathered there, but especially his Vice President Mike Pence in an effort to get him to reject the official vote.
I suspect that the last element of Trump's plan was to so stir up the crowd's violence that it would result in more chaos involving deaths of some members of Congress. Then Mr. Trump, with only two weeks left of his presidency, would feel justified in calling for the National Guard to put down the chaos. Trump then hoped that this would further his attempt to overthrow the election results, perhaps call for another election, and all of this would aid in his goal to remain in power.
Until now, the main discussion about the question of whether or not the Justice Department will investigate Trump for crimes relating to this January 6th riot has centered on the intent of his mind about two things: (1) whether he really has believed tat he lost the election due to fraud, as he constantly harangues, and (2) if he purposely tried to incite the crowd to violence that day with his speech, and with things he said publicly leading up to it, to prevent Congress from certifying the Election College results and thereby reversing them. That would be the overthrow of our democracy, which centers on its free and fair election process.
There has been some very strong testimony by witnesses in all of these previous hearings that have been damaging to the former president's reputation, his chances of running for the presidency in 2024, and if not his very future as a free citizen. But yesterday's testimony by Ms. Hutchinson was the most devastating of all to Trump and others, including Meadows.
But another question being discussed is most troubling to me. It is whether or not the Justice department should prosecute former President Trump for crimes even if the DOJ was very sure they would win such prosecution in court. The prime factor in this discussion is whether or not the country, which has been so polarized politically, should have to suffer such an event, especially if the former president was imprisoned. After Richard Nixon resigned the presidency, in 1974, his successor Gerald Ford (who I met and talked to for about fifteen minutes at a house party) pardoned Nixon of possible crimes for "the good of the country."
I think it the Justice Department chose that route, it would be far more damaging to the future of our democracy than Donald Trump going to prison for a while. For one thing, it would send the message that the very foundation of our American democracy–with its legal system that has been the envy of the entire world–no longer guarantees that "no one is above the law."
Actually, it should be just the opposite. Government officials actually should be held to a higher standard than the rest of the population. Assuring that would cause a higher quality of people to try to become our elected officials. Moreover, Jesus affirmed this maxim when he taught, "From everyone who has been given much, much will be demanded; and from the one who has been entrusted with much, much more will be asked" (Luke 12.48 NIV).