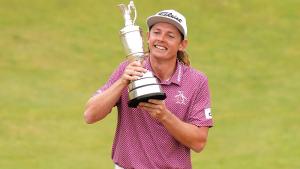 Cameron Smith, who looks like hippie but putts like a wizard, won The Open today at the birthplace of golf–the Old Course at St. Andrews. He charged from behind to shoot a blistering eight-under par 64 to best the field by a single stroke and lift the Claret Jug at day's end. Cameron Young was alone at second.
Co-leader and four-time major winner Rory McIlroy shot a respectable two-under par 70 to finish alone at third. Again, the likable Irishman just didn't make the putts. The tournament favorite has now had nine top-five finishes in major championships since he last won a major, which was in 2014.
Cameron Smith is an Aussie who is one of the world's best putters. He had been frustrated with his 73 score yesterday, mostly because putts didn't drop. But today, the putts went in as he came from three strokes back with nine holes to play.
So, Cameron Smith won the historic 150th Open. Ironically, the 100th Open was won by Aussie also–Kel Nagle. (He was a really nice guy who I played with several times on the PGA Tour.) Smith was told that in the presser. He said he didn't know that fact. Then he added, to laughter, that an Aussie needs to win the 200th.
In that presser, a reporter asked Cameron what he thinks of the rebel upstart pro golf tour LIV Golf Invitational Series, which is being backed by lots of Saudi loot, and if he will join it. The soft-spoken blond with long, unruly hair and a mustache to match answered firmly and definitively, just as he did in wielding his sticks on the grass today. He said that was not an appropriate question to ask him right after he had just won The Open, so he said he would not answer it. He added, however, "I leave that to my team to figure out. I just play golf."
That answer makes you think he may be considering joining LIV Golf. The  non-American pro golf stars who compete regularly on the PGA Tour are understandably more susceptible to joining it than the American pros are.
I never played The (British) Open. I was exempt from qualifying for it in 1970, due to my win in the Canadian Open that year. But in those days, the purse was small and there was more expense. I did play St. Andrews one time years later. This links course is surely the only golf course in the world that has eighteen holes but only eleven greens. When I finished the round I said, "This is a game with which I am unfamiliar."
[Read about my idea to build golf courses played forwards and backwards like the original St. Andrews was, called "reversible golf," in my post, "Millard Says, 'Use Sheep, Not Lawnmowers."]