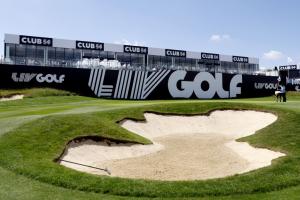 When I saw that Deane Beman was interviewed this week about the disruptive LIV Golf Invitational series that is competing with especially the PGA Tour by stealing its players, I thought there is no one associated with the PGA Tour who I would rather read on this subject than him. Beman played the Tour when I did, thus we were paired together a few times. But Deane started his pro golf career late and ended it rather early by becoming the PGA Tour commissioner for twenty years, starting in 1974. And I and a whole lot of Tour players think he did a really great job in growing the PGA Tour.
The main thing that Beman said in his interview with Golfweek was that three times he said the Saudis, "don't give a damn about golf." Indeed, it's all about sportswashing. Deane further explained, "Overall, I don't think the people putting up the money give a damn about the game of golf. They are trying to use what we built over decades, what I think is the most courageous and responsible sport that there is and that has integrity and respect for the rules and respect for the game and respect for competition, I don't think the people putting up the money give a damn about any of that. They are putting up money for their own personal benefit."
England's Tony Jacklin had something to say about it this week also. He is the 1970 U.S. Open champion who was a top star on the PGA Tour in his day. After that, four times during his retirement he captained the international side for the Ryder Cup, the crown jewel competition in professional golf.
Yesterday, 78-year old Jacklin was interviewed by the Sunday Times about the new, disruptive pro golf tour backed by the Saudi wealth fund called LIV Golf International series. His main response was calling LIV Golf "a nightmare" for professional golf. He predicts that the international pro golf scene will be "never the same again."
Jacklin said of those PGA Tour members who have joined the LIV Golf league, "all of these guys, before they took the LIV money, are very wealthy individuals. I mean, it's not like they're paupers. You know they are making huge money and have been for years. It is, of course, nobody's business to tell somebody else how much is enough."
Jacklin supports the decisions by the PGA Tour to suspend its approximately 17 members who have played in any of the three LIV Golf events which conflicted with PGA Tour tournaments those weeks, which Tour regulations do not permit unless the commissioner grants a special release for that tournament to that player.
Several LIV players who have been suspended by the PGA Tour, sued the Tour for it last week. Three different, lesser-known LIV Golf players also sued the Tour for withdrawing their entry into the FedEx Cup playoffs which began today. They are Talor Booch, Hudson Swafford, and Matt Jones. Tuesday, the U.S. court ruled in favor of the PGA Tour and therefore against these three players, who therefore were not allowed to enter these playoffs today for which they had qualified during the season.
The money the Saudis are throwing at the star players who arose to fame by playing the PGA Tour is astronomical. Some were offered $100-200 million. Tiger Woods was offered between $700 and 800 million, and he turned it down. Tiger has been among the names in the PGA Tour who have publicly and highly criticized LIV Golf. They say it's all about money, that is, from the players perspective. Yet, as Jacklin says, these players have made a very good living by playing the PGA Tour. Then he raises the question of how much is enough.
I think LIV Golf smells of greed, which is not a good look, or should I say smell. Like Jacklin says, these star players from the PGA Tour who have gone over to LIV Golf, such as Phil Mickelson, who has won 45 PGA Tour tournaments in his career, already made huge money in their careers. The younger Bryson DeChambeau is another. He has taken the Tour by storm recently with his unorthodox approach to game. Bryson also has claimed for several years to be a Christian believer.
If LIV Golf would have existed during my time on the PGA Tour, I don't think I would have accepted an offer from them if it would have happened. It would be partly because of the Saudi government doing it as "sportwashing"–trying to eliminate a bad reputation. But it also would be because it would look so greedy from a Christian perspective. Certain scriptures in the Bible's New Testament have something quite sobering to say about that.
Chief among these scriptures is Jesus warning, "Take care! Be on your guard against all kinds of greed; for one's life does not consist in the abundance of possessions" (Luke 12.15 NRSV). He then taught a parable to illustrate his point. It was about "a rich man" who "produced abundantly" (v. 16). He built more and better barns to store his crops (vv. 17-18). Jesus said the man then said to himself, "'Soul, you have ample goods laid up for many years; relax, eat, drink, be merry.' But God said to him, 'You fool! This very night your life is being demanded of you. And the things you have prepared, whose will they be?' So it is with those who store up treasures for themselves but are not rich toward God" (vv. 19-21).
The apostle Paul exhorts Christian believers, "you must no longer live as the Gentiles live, in the futility of their minds. They are darkened in their understanding, alienated from the life of God because of their ignorance and hardness of heart. They have lost all sensitivity and have abandoned themselves to licentiousness, greedy to practice every kind of impurity. That is not the way you learned Christ" (Ephesians 4.17-20).
Paul further warns his readers, "Put to death, therefore, whatever in you is earthly: fornication, impurity, passion, evil desires, and greed (which is idolatry)" Colossians 3.5) Paul also writes, "those who want to be rich fall into temptation and are trapped by many senseless and harmful desires that plunge people into ruin and destruction. For the love of money is a root of all kinds of evil, and in their eagerness to be rich some have wandered away from the faith and pierced themselves with many pains" (1 Timothy 6.9-10).
Finally, Paul writes, "You must understand this, that in the last days distressing times will come. For people will be lovers of themselves, lovers of money, boasters, arrogant, abusive, . . . swollen with conceit, lovers of pleasure rather than lovers of God, holding to the outward form of godliness but denying its power. Avoid them!" (2 Timothy 3.1-2, 4-5).