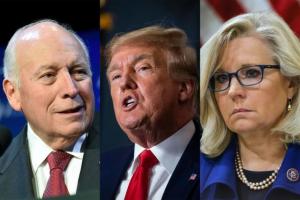 Former Republican Vice President Dick Cheney has a new ad that attacks former Republican President Donald Trump. The ad supports the election of Cheney's daughter, Mrs. Liz Cheney, who is a U.S. Representative from Wyoming. She is in a race to keep her House seat in the Republican primary. She is expected to lose because Wyoming is an extremely red state with a low population. In fact, 70% of Wyoming voters voted for Republican Donald Trump in 2020.
Liz Cheney is perhaps the biggest critic of Donald Trump in the Republican Party. She voted with nine other House Republicans to impeach (then) former President Trump for insurrection for causing the January 6th, 2021, pCapitol riot. Plus, she is the vice chair of the Select Committee investigating the Capitol riot, which just completed eight televised hearings about it last month. And she has been saying that Mr. Trump is guilty of crimes committed then and should be held accountable.
But it looks like Liz Cheney is about to lose her job in Congress. She is in a race with Republican Harriet Hageman whom Trump has endorsed.
Dick Cheney, LIz' dad, agrees strongly with her. Donald Trump was U.S. president for only four years, but Dick Cheney was vice resident for eight years. He's worth hearing out on this. Hageman is a thorough Trumper by claiming, as Trump does, that the 2020 election was a fraud and thus the election was stolen from Trump.
Dick Cheney's television ad is entitled "He Knows It." It lasts only one minute, but it says volumes. Cheney says in it, "In our nation's history, there has never been an individual who is a greater threat to our republic than Donald Trump. He tried to steal the last election using lies and violence to keep himself in power after the voters had rejected him. He is a coward. A real man wouldn't lie to his supporters. He lost his election and he lost big. I know it, he knows it, and deep down I think most Republicans know it."
Strong words–Dick Cheney calling Donald Trump "a coward." What do you think?