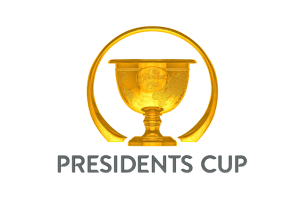 The heavily-favored USA Team defeated the International Team in the Presidents Cup today with a final score of 17.5 points to 12.5 points at Quail Hollow Club in Charlotte, North Carolina. The U.S. Team took a substantial lead on the first day of the event, on Thursday. On Sunday, the Internationals were clawing themselves back in individual matches, looking like they might rally to make the competition close. But the Americans then went on a birdie binge to close it out for another U.S. victory that made the Americans and their Captain Davis Love III happy.
The Presidents Cup is played biennially (every other year) as is the Ryder Cup, with them alternating each year. Thus, the more prestigious Ryder Cup is played every even-numbered year, and the Presidents Cup is played every odd-numbered year.
The International Team of the Presidents Cup includes all eligible, international pro golfers except those from Europe. And, like the Ryder Cup, the Presidents Cup consists of two, 12-man teams that play only match play, both individual and team matches, with a total of 30 matches played over the four days of the competition. The Ryder Cup and Presidents Cup are the only team golf tournaments that the best PGA Tour players ever play. That is, all PGA Tour tournaments are individual competitions with no team golf or match play events.
American Jordan Spieth, who had a non-lustrous year, emerged as the competition's star this week by going 5-0 in his matches.
The International Team may have been weakened this year with the advent of LIV Golf. Some of its players would have made the International Team but were declared ineligible due to joining the renegade LIV Golf. These included Cameron Smith of Australia, #2 or 3 player in the world right now, and Joaquin Niemann, Abe Ancer, and perhaps Louis Oosthuizen. Yet the U.S. Team was missing Dustin Johnson, Bryson DeChambeau, Brooks Koepka, and perhaps Patrick Reed. Nevertheless, the Americans seem to be stronger team no matter LIV Golf's intrusion this year. The same may happen next year with the Ryder Cup. But court cases are pending regarding this biggest disruption in pro golf history.