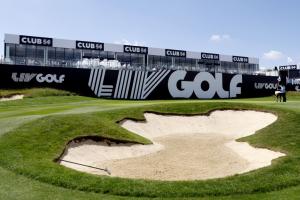 The chaos continues to mushroom in professional golf worldwide that has been caused by this year's, new, Saudi-backed LIV Golf tour. Several former PGA Tour and DP World Tour (former European Tour) member have signed up with LIV Golf and played one or more of its four events that have been staged since June this year. (The next and last four are next month.) Both of the two established pro golf tours reacted by either suspending or banning these rebel members so that they cannot participate in its tournaments. This punishment has resulted in some lawsuits and governmental investigations.
The U.S. Department of Justice is now investigating alleged anti-competitive practices,  and possibly re-investigating tax exemption status, of the PGA Tour. And a European court imposed an injunction on DP World Tour in preventing its members who joined LIV Golf from also competing in DP World Tour tournaments. Some LIV Golf rebels of both established tours have retaliated by bringing lawsuits against the PGA Tour and DP World Tour.
Then there are the demonstrators at LIV Golf tournaments. Most notable are families that lost loved ones in the 9/11 terrorist attacks on U.S. territory that killed almost 3,000 people, the largest attack in U.S. history. They are not allowed on LIV Golf venues, but they demonstrated near the entrances of them. Those families had sued the government of Saudi Arabia, alleging it was involved to some extent with the 15 of the 19 terrorists who were Saudi citizens.
The Republican Study Committee is now getting involved. It is the largest caucus in the U.S. House of Representatives. It met this week with Greg Norman, director of LIV Golf. He is an Australian who competed on the PGA Tour while living in the U.S., won two Open championships, was the #1 player in the world for some time, and has had a grudge against the PGA Tour for decades. Although the meeting was not an actual investigation, but an inquiry, two of its members expressed anger toward LIV Golf's Saudi-backing and defended the PGA Tour.
Tim Burchett of Tennessee described Norman's address to the committee as "propaganda" at the behest of LIV Golf. Burchett later tweeted, "Weren't Saudis flying some of those planes on 9/11 and what about their killing of @washingtonpost columnist Jamal Khashoggi?" These stigmas against LIV Golf because of the Saudi sovereign wealth fund backing it, which is controlled by Crown Prince Mohammed bin Salman himself, the de facto king, are not going away.
Chip Roy of Texas said to Norman, "Don't come in here and act like you're doing some great thing while you're pimping a billion dollars of Saudi Arabian money. You enriched yourself on the back of the [PGA] Tour." Roy then asked why LIV Golf staff, such as U.S. citizen Greg Norman, were not registered as foreign agents. You may recall that Donald Trump's 2016 political campaign manager Paul Manafort was found guilty of eight counts, one of failing to register as a foreign agent, and went to prison for it.
Several PGA Tour stars who have criticized other Tour members for joining LIV Golf have accused them of "turning your back on the PGA Tour" if not "the country." One has been Tiger Woods concerning both charges.