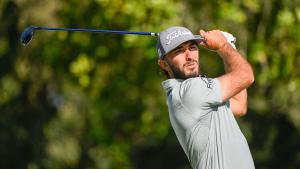 Two hours ago, Max Homa successfully defended his Fortinet Championship on the North Course at Silverado Resort and Spa in Napa, California. It was one of the most shocking finishes you will ever see on the last hole of a PGA Tour tournament. And it happened right were I won my first PGA Tour tournament, way back in 1968.
Danny Willett is a 34-year old Englishman who plays mostly on the European Tour, which is now renamed the DP World Tour. He won the 2016 Masters, his only major win, and never won again on the PGA Tour.
Willett and Homa were playing together today in the last threesome with the rain creating some havoc. On the closing holes, it was becoming just about a match play event between Willett and Homa. On the par-four 14th hole, they were tied for the lead at 15-under par for the tournament. Danny Willett hooked his drive to the left to leave him stymied only a few feet from a huge tree trunk, with his ball resting on top of dry pine needles. Rather than chip out safely into the fairway, as most pros likely would do, Willett went for broke, aiming his ball out-of-bounds. With a short iron club he hit a massive hooked shot that settled about twelve feet behind the hole, barely in the fringe and therefore just off the green. Then he holed the putt for a birdie to take a one shot lead over Homa.
Both players parred the next two holes. And both parred the short par-four 17th hole, but Willett had to make a nine foot putt from behind the hole to two putt.
On the reachable par-five 18th hole, Willett drove first into the far right rough, yet with a clear shot out. Homa drove perfectly down the middle of the fairway so that he could reach the green in two for an eagle try. It looked like Homa, being one stroke behind leader Willett, was going to have to either birdie or eagle this last hole to tie Willett and thereby force a sudden death playoff. Willett then pitched out safely into the fairway, leaving himself a 65-yard third shot.
The opening to the 18th green is fairly tight when you try to go for that green in two. Homa needed to either hit his second shot with his metalwood on the green or miss the green to the right. That's because there is a sizable sand bunker somewhat short and left of the green in which there are several yards between the bunker and the green. Pros hate to hit long sand bunker shots that are maybe 25 yards or more from the hole. They consider that to be one of the toughest shots in golf. Well, sure enough, Homa pulled his second shot into that bunker, leaving himself about a thirty-yard third shot.
Willett then played a fine wedge shot for his third stroke, and the ball ended three and a half feet from the hole, thus putting for a birdie. Homa then seemed to have ruined his chances for a playoff when he hit his sand bunker third shot short of the green, 33-feet from the hole. Then he pitched his fourth shot strongly. But the ball slammed against the pin and, like a scared rabbit, disappeared quickly into the hole for a birdie four and a 16-under par total of 272.
Willett, thinking he was going to win, now had a surprised look on his face and a smile as if he was now thinking, "Welcome to the PGA Tour, where anything can happen."
Willett, however, just needed to make that three and a half foot birdie putt on perfectly flat terrain to win the tournament by one stroke. Instead, he hit one of the worst putts I've ever seen when a pro could win a PGA Tour tournament. His ball barely touched the left side of the hole and ended up five feet past the hole, thus one and a half feet farther from the cup than his first putt was. Danny then missed that second putt to the left of the hole and knocked in his short third putt for a three-putt bogey six to lose the tournament by one stroke. Everyone watching was in shock at what they had just seen.